Your microwave allows you to cook meals, snacks, and desserts quickly and easily. However, not all cookware is suited to use in the microwave.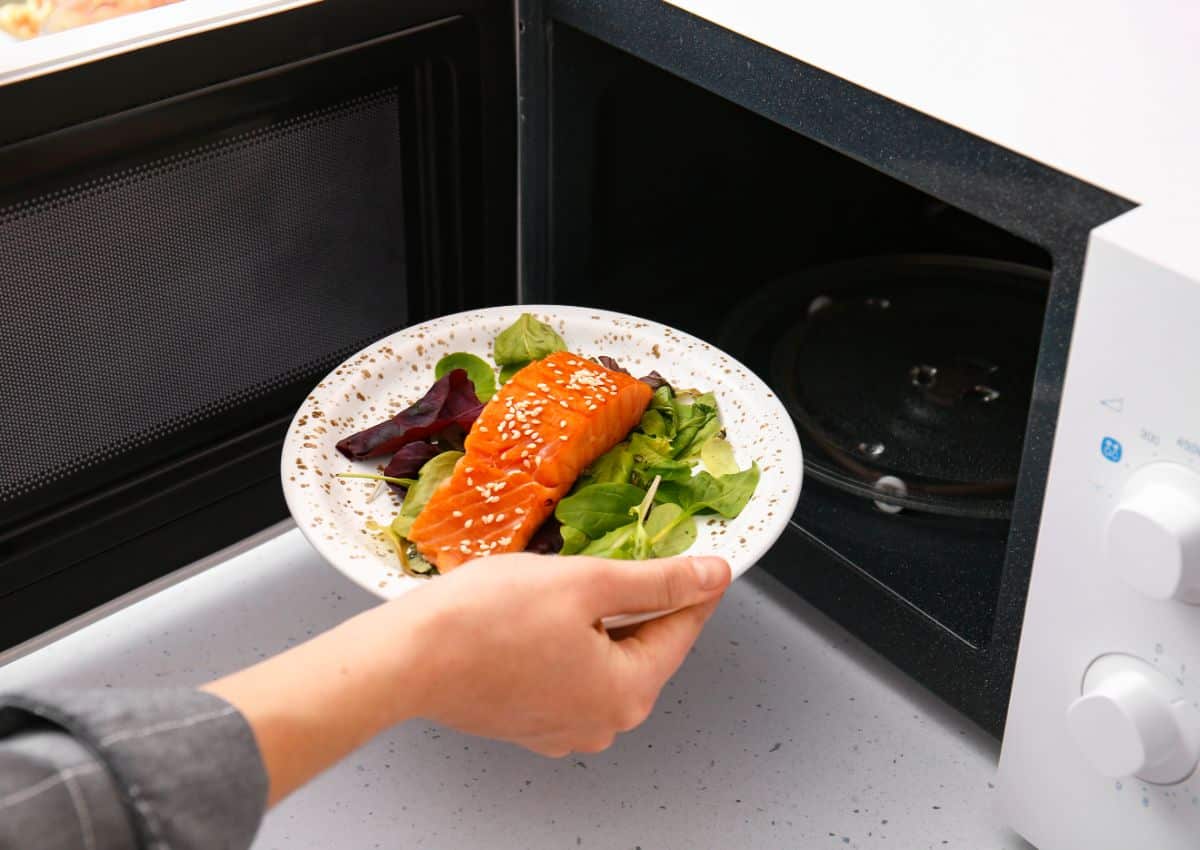 The best cookware for your microwave is safe to use and fits easily inside it. Many types of cookware are versatile and go in the microwave, oven, or on stove. Many specialty microwave cookware pieces work only in the microwave or for one type of food.
Jump to:
Tips for Choosing Microwave Cookware
Finding cookware that is safe and effective for microwave cooking is simple.
1. Check For A Microwave Safe Label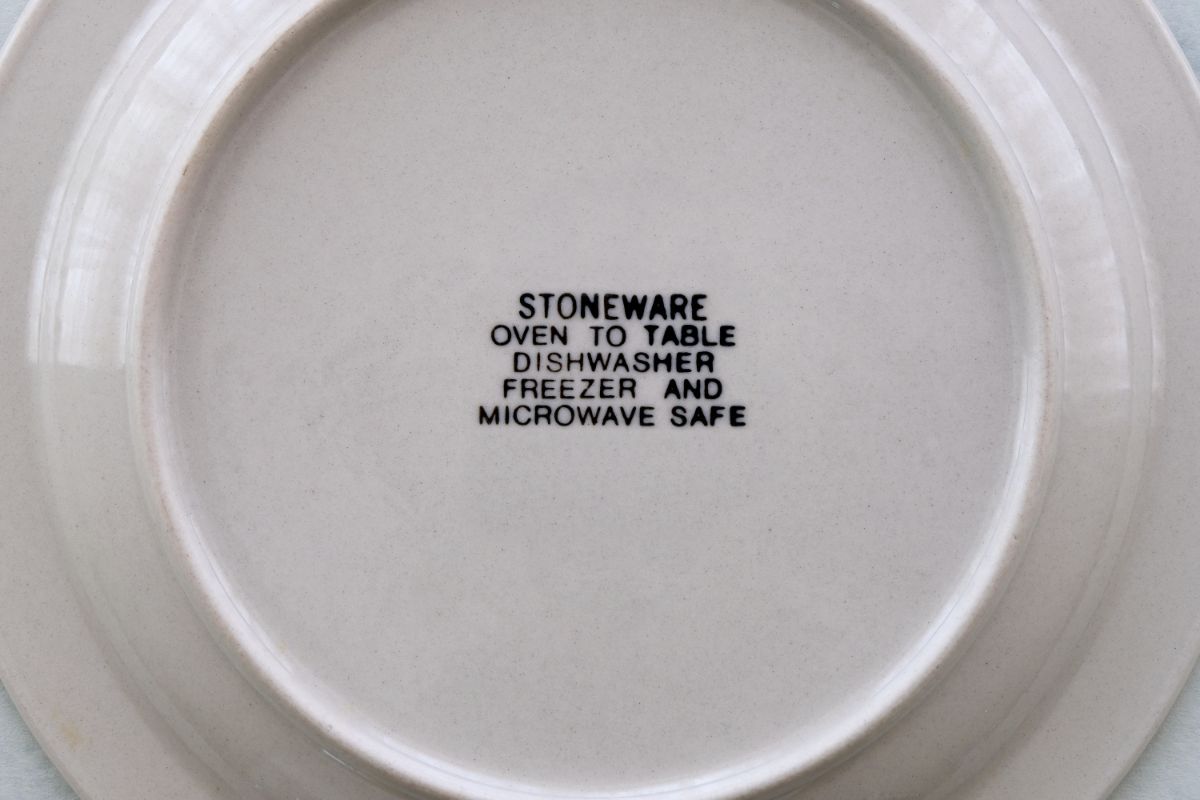 The most important aspect of cooking food in the microwave is to make sure you do it safely. First, check any cookware you want to use to make sure it is microwave safe.
Glass and plastic are common materials for microwave-safe cookware. They usually say on the bottom that you can safely use it in your microwave. Some plastics will melt or leach additives like BPA into your food or beverage. When in doubt, put your food into a container
2. Test Containers
Most glass is safe to use in the microwave. When buying new cookware, the package will usually say whether you can microwave it.
If the packaging or glass container does not tell you whether it is microwave safe, you can test it. Place it in your microwave empty. Put a small amount of water in a container you know is safe for your microwave to protect your oven. Run the oven for one minute. The container you are testing should be completely cool to the touch.
You can test ceramic and other pottery dishes the same way.
3. Check The Fit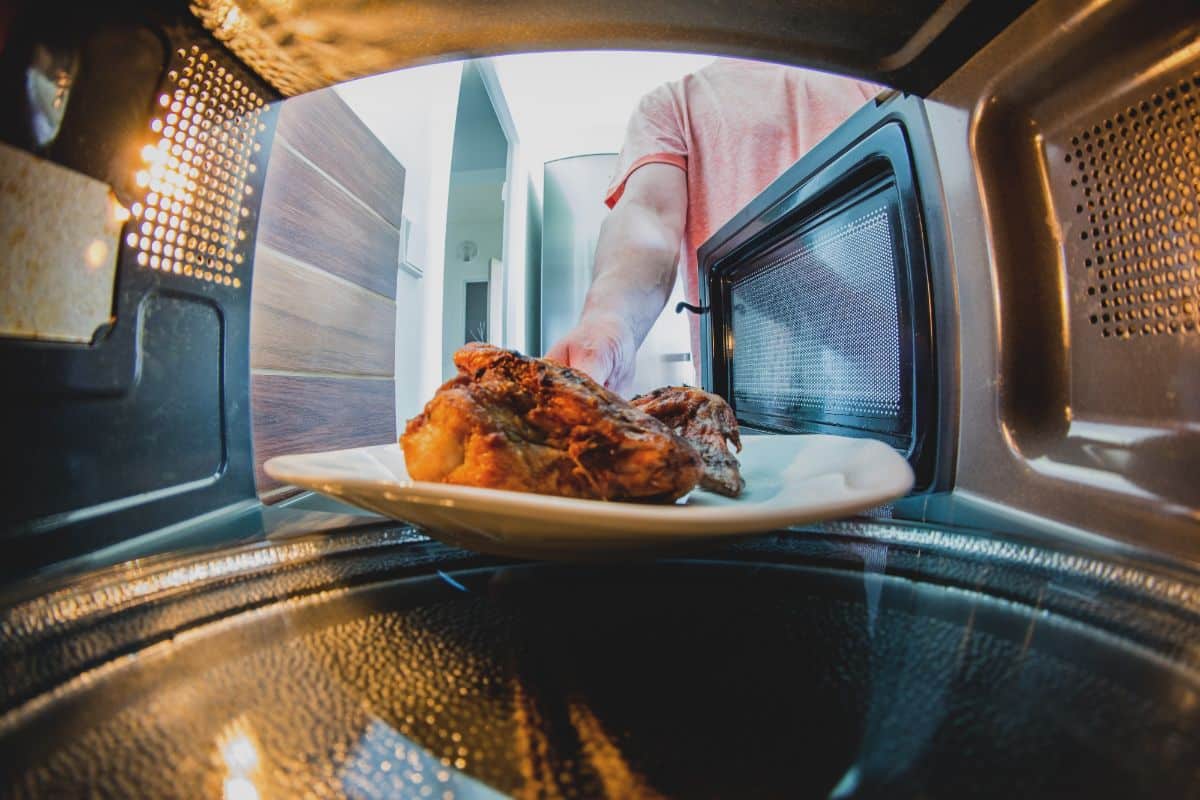 Microwaves come in various sizes. A safe dish will not necessarily fit in your oven. You can measure the dish with a tape measure or ruler or just try fitting it into your microwave.
Two guidelines for whether a piece of cookware fits in your microwave are:
It can't touch the sides of the oven
The plate must be able to rotate as the machine runs
An over-the-range microwave is typically about 30'' (76 cm) wide and 17'' (43 cm) high. It can be 15-17'' (38-43 cm) deep with the door shut.
Countertop units are not as wide (21-24'' or 53-60cm) or tall (13'' or 33 cm). But they tend to be deeper at 16-20'' (40-50 cm) with the door shut.
4. Consider The Shape
Microwaved food is notorious for cooking unevenly. Some spots feel boiling while others are still cold. The problem may be the shape of the cookware. Food heated in a round container will heat more evenly than in a square container. This works well for things that can take the shape of a container, like soup, stew, pasta or rice in water, and cake batter.
Of course, making pizza or cooking a piece of meat will require a flat and shallow vessel. But try a round dish whenever possible.
5. Consider What You're Cooking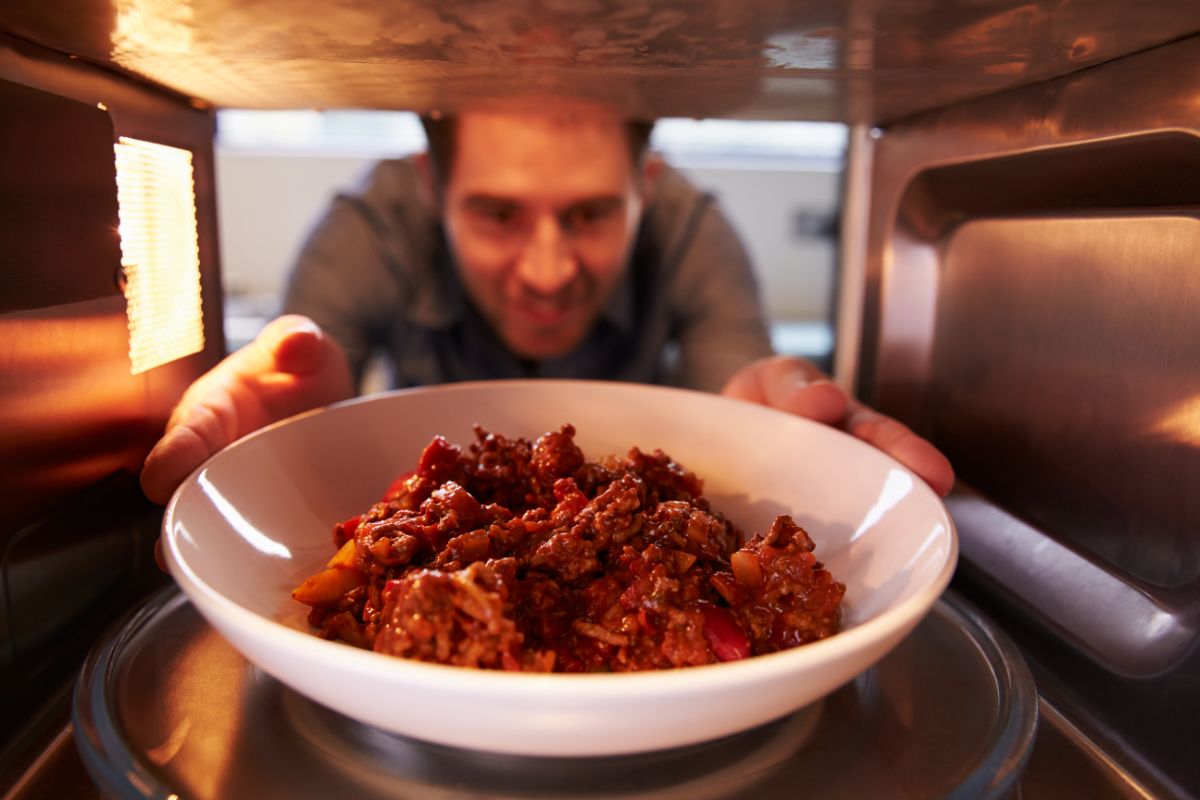 Your microwave can perform three cooking functions to make a meal or dessert from start to finish.
It also performs two secondary functions that most home cooks are familiar with.
Almost any cooking you do in a conventional oven, you can do in your microwave. You can bake cakes and cookies, grill meat and fish, and boil rice or pasta.
Glass, ceramic, and silicone ovenware all work well for these cooking applications. Whatever you would use in the oven, use in your microwave instead.
Some options include:
Silicone cake and muffin molds
Glass casserole dishes
Ceramic bread pans
Ramekins
6. Use A Food Cover
After choosing the right vessel to put your food in, consider covering the food with a microwavable lid. Many models are easy to clean, dishwasher safe, and collapsible for easy storage.
The cover is designed to assist microwave cooking in several ways.
It keeps food from getting too dry
It helps food cook evenly
It prevents splatter inside the microwave
7. Choose Cookware Designed for the Microwave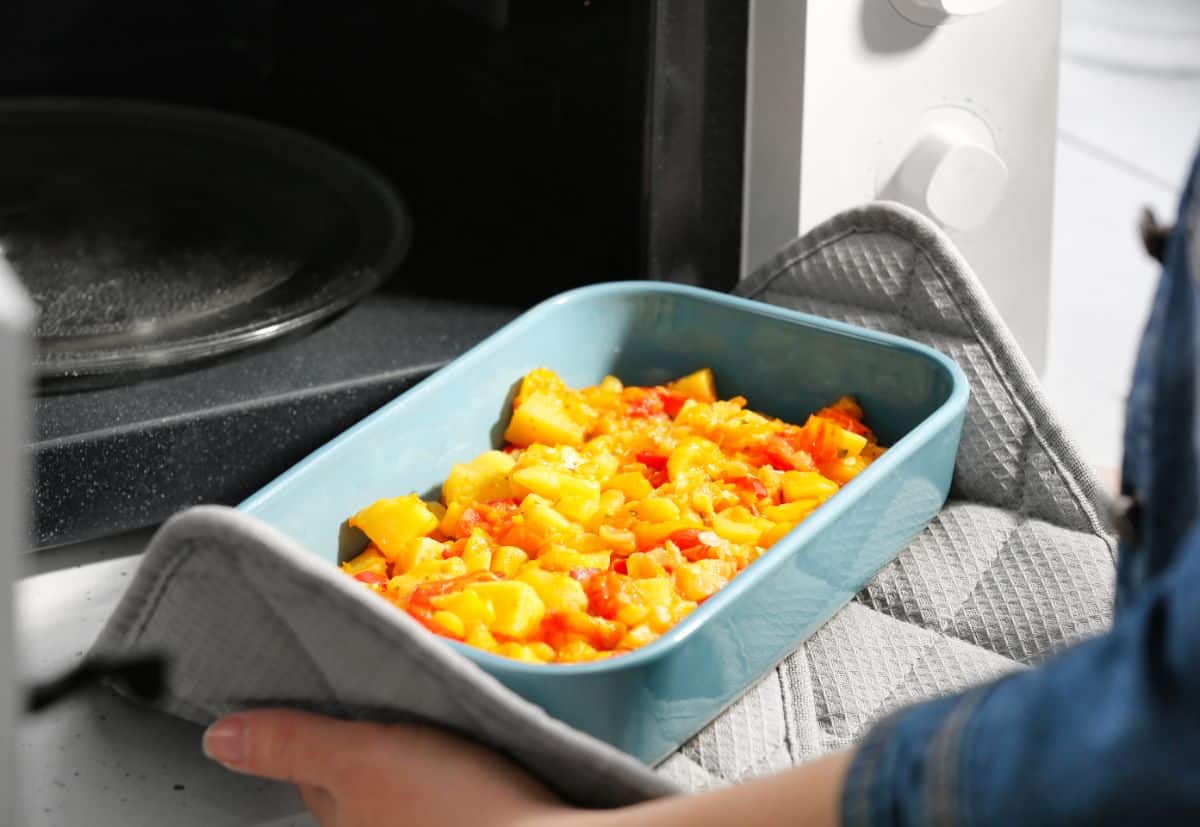 You can get a special piece of cookware for almost anything you want to make in your microwave. The great thing about these products is that they are specifically designed to work best in your microwave.
While many cookware pieces that work in your conventional oven can go in the microwave, the opposite is not true. Manufacturers often use specific plastics or other materials to make specialty microwave utensils and cookware.
Some useful options are vegetable steamers, pasta cookers, bacon trays, popcorn poppers, and rice cookers.
What Type of Cookware Should Never Be Placed in the Microwave?
Some materials are never suitable for microwaving. They are either unsafe or ineffective as cookware for the microwave.
Metal
It's common knowledge that you cannot use metal utensils or cookware in your microwave. Metal deflects the waves away from the food. As they bounce around erratically, they can cause sparks and damage the appliance. The metal container may also overheat and melt.
Exception: Some frozen meal manufacturers package their food in containers with a foil layer. The foil is designed to help the food cook evenly without overheating and causing problems. Always follow the directions on the package of microwave-ready foods.
Disposable Plastic Containers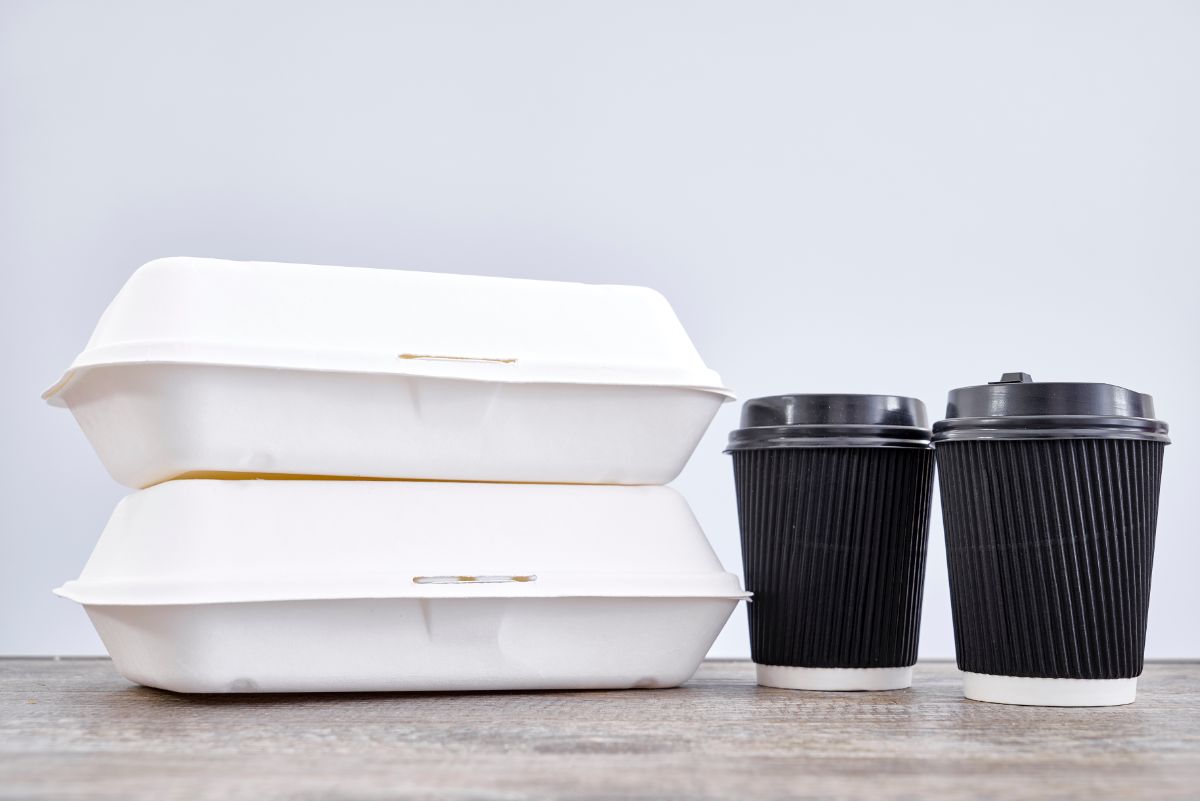 Never reuse plastic containers from butter, whipped topping, or frozen dinners. They are not labeled for microwave use and usually melt. Even if there is no visible melting, these plastics can leach chemicals into your food.
Polystyrene
Known commonly as Styrofoam, polystyrene will melt in your microwave and leach chemicals into your food. While it's a great material for keeping take-out foods warm when you first order, never reheat your leftovers in the styrofoam container. Remove the food to a microwave-safe dish for reheating.
Plastic #1 Take-out Containers
Polyethylene Terephthalate (PETE) is plastic with a #1 on the bottom of the container. It only has a heat tolerance of 120 degrees Fahrenheit. Specialty microwave cookware manufacturers do not use PETE to make their products.