Microwave ovens are an easy and efficient tool to heat last night's leftovers and rewarm a cold cup of coffee.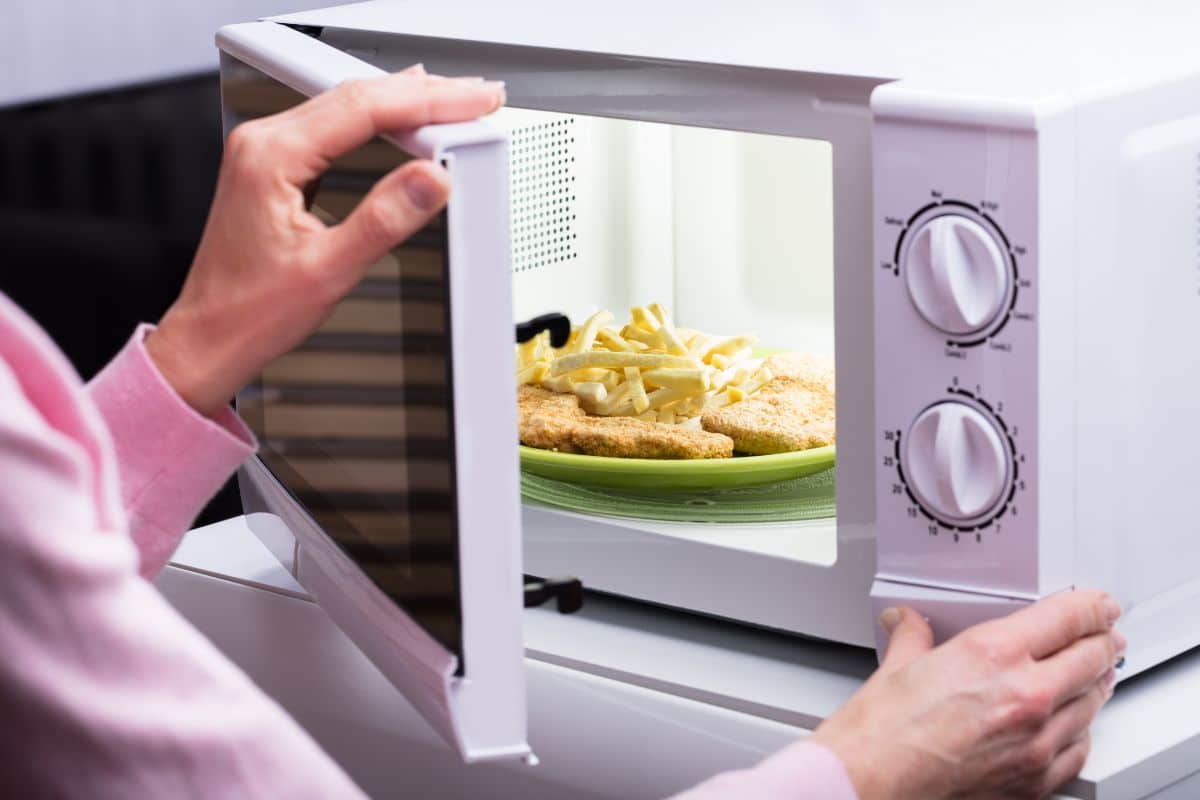 Some people worry that these appliances might be harmful because microwave ovens use radiation to function. Is there any truth to this worry?
Thankfully, microwave ovens are safe because they emit low radiation levels and comply with all federal radiation regulations.
Keep reading to learn more about microwave oven radiation.
Jump to:
What is Radiation?
What exactly is radiation, and how does it relate to microwaves?
Radiation is a type of energy that moves fast, at the speed of light. Radiation is also considered an electromagnetic wave.
There are many kinds of waves on the electromagnetic spectrum, from the energy x-rays emit to household objects like microwaves.
Humans come into contact with forms of radiation every day due to electronics like cell phones and computers. Even nature like soil emits some level of radiation.
There are two different kinds of existing radiation — ionizing and non-ionizing.
Ionizing Radiation
We use ionizing radiation for procedures like x-rays and other doctoral scans. These procedures use minimal amounts of radiation which makes them safe for people.
Ionizing radiation exposure becomes more dangerous in larger or more frequent amounts. In larger amounts, it could cause burns, skin sensitivity, and other health issues.
Non-Ionizing Radiation
Items we use almost daily use non-ionizing radiation. This type of radiation creates less energy than ionizing radiation, making it safer for common contact.
Microwave ovens are common objects that use non-ionizing radiation. They serve many purposes, including heating food.
Do Microwave Ovens Produce Radiation?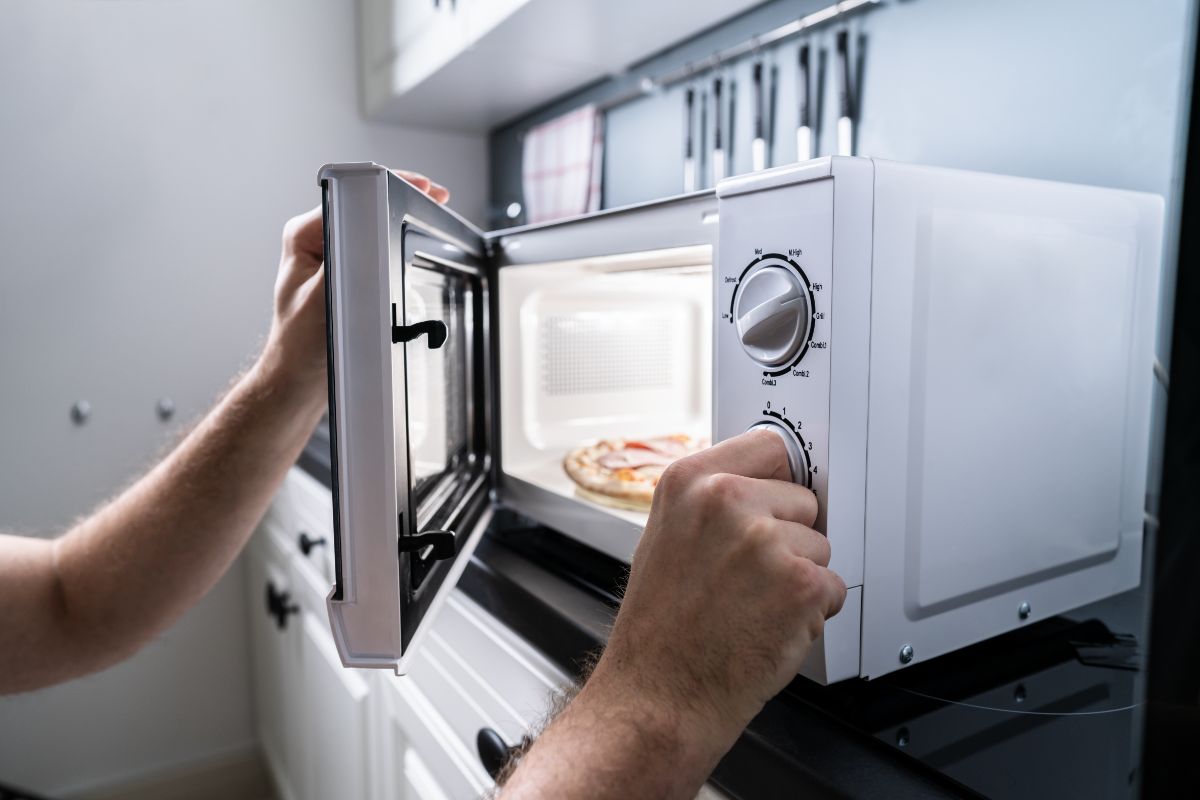 Yes, microwaves produce non-ionizing radiation. This is a safe kind of radiation for repeated use.
Microwave ovens use this radiation to heat food. Electrons called magnetrons create energy and the microwave effect. All the electromagnetic waves bounce around the inside of the oven and collide with the food. These waves interact with the water content in the food, creating heat that cooks the item.
You might have heard the saying that microwave ovens cook food from the inside out, which is not necessarily true. Often, the microwave energy heats the exterior of the food, and the residual heat cooks the interior.
Microwave ovens are efficient in heating food quickly partly because of radiation, especially compared to alternatives like the stovetop or traditional oven.
How Much Radiation is in a Microwave?
The FDA sets federal limits for how much radiation is allowed in electronics like microwave ovens. These restrictions help keep the public safe from excessive radiation emissions.
The FDA's standard today is up to five milliwatts of microwave leakage from the oven throughout its lifetime. Five milliwatts of leakage is a low level that is not known to be dangerous for humans.
The FDA also requires all ovens to include an interlock system that ceases all microwaves when someone opens the oven door.
Every oven sold must undergo tests to ensure they meet these standards. When you purchase a microwave oven, you may notice a sticker on the front saying that it complies with all FDA regulations.
Is a Microwave Oven Safe for Health?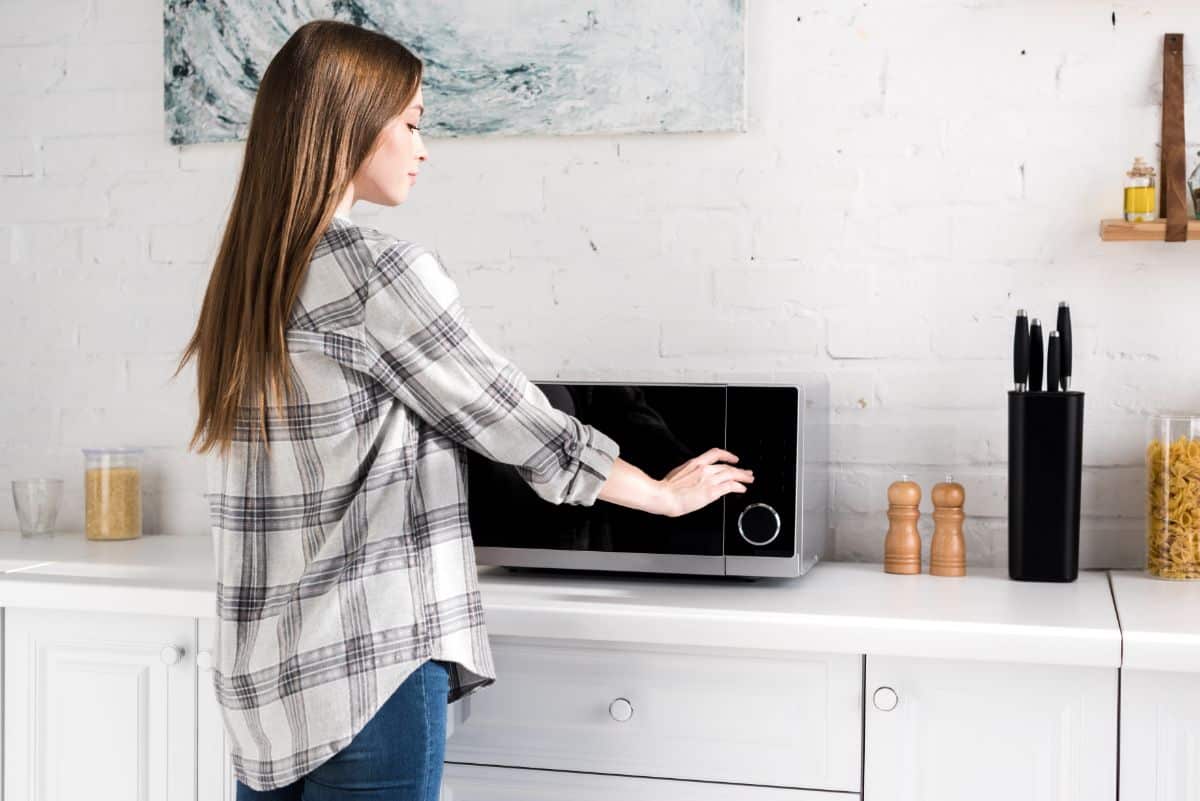 Since microwave ovens use non-ionizing radiation, they produce fewer risks than objects that use ionizing radiation, like x-rays.
However, with all kinds of radiation, there are a few precautions to consider.
Microwaves do not only heat food; they can also heat your body. Too much exposure to high levels of microwave radiation can damage the skin, leaving scarring and burns. The most radiation-sensitive part of the body is the eyes. Excessive exposure could cause cataracts.
These kinds of injuries only become health risks for someone exposed to large quantities of microwave-induced radiation.
The majority of injuries related to microwave ovens have nothing to do with the emitted radiation. Often, people burn themselves on overheated food, containers, and liquid.
Many people receive harmful burns from hot water heated in the microwave. While the water may not look like it is boiling, it may still be incredibly hot. Scientists and health officials refer to this hot state as superheated water, water heated above boiling temperatures.
Super-heated water does not appear bubbling, but it is too hot to handle. Avoid this risk by microwaving water in short increments and keeping an eye on it.
Do Microwaves Impact Nutritional Value?
Cooking foods using any item in the kitchen begins to break down some nutrients. This breaking down happens because heat from methods like boiling and sautéing impacts the structure of the food.
So yes, microwaves do impact a food's nutritional value slightly, but every other cooking method does, too.
If you microwave your food and worry about losing essential nutrients, find some solace in understanding that there are still many vitamins and minerals left to fuel your body.
In fact, microwaving your food might be the best way to preserve as much nutritional value as you can. Food that cooks for a long time has ample opportunity to break down versus popping that same item in the microwave for thirty seconds.
Can I Microwave Food in Plastic Containers?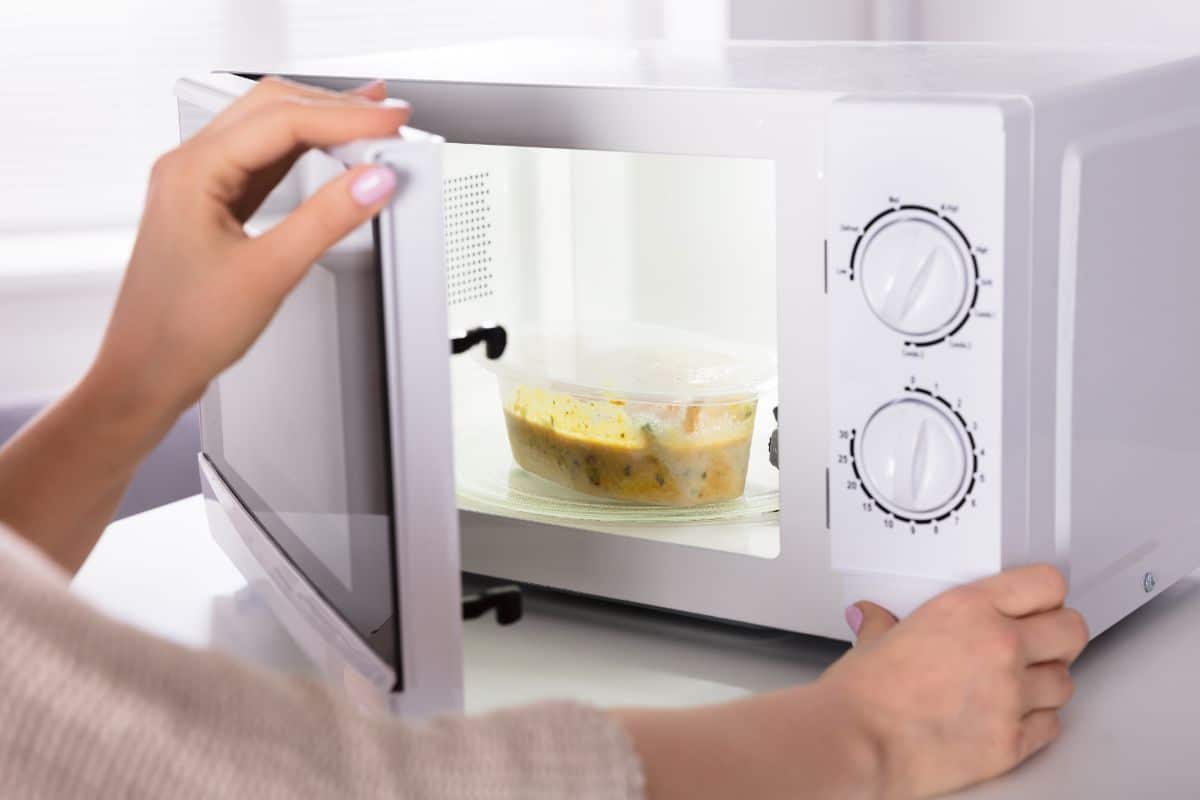 You might assume plastic containers can withstand the microwave, which is partly true. Containers marked "microwave safe" will not melt from the heat.
However, you may increase the risk of certain chemicals from the plastic seeping into your food.
Of course, not all plastics contain the same materials. The two most common plastic materials are:
Bisphenol A (BPA)
Phthalates
BPAs and Phthalates help plastic maintain its shape and flexibility, but these chemicals may negatively impact human health. At certain levels, these substances impact hormones like estrogen and testosterone. These substances may lead to health problems such as the increased risk for:
Fertility problems
Growth and development problems
Thyroid inflammation
Weight fluctuation
Cancer
This information might seem frightening, but organizations like the FDA implement regulations for how much of these substances can go into plastic. You will still find these substances in plastic but in lower amounts.
Although the FDA regulates plastic, it still might not be a good idea to heat food in plastic containers, especially if you are concerned about the potential for BPAs and Phthalates to leach into your food.
Instead, try finding BPA or phthalate-free plastic. Look for wooden or glass containers as well.
What is a Safe Distance From a Microwave Oven?
Microwave ovens work so well because they efficiently keep radiation inside, thanks to their metallic interior and glass door.
You might notice your microwave oven door has tiny dots all over it. These dots serve a purpose. They keep the energy waves tumbling around inside the appliance.
For these reasons, a safe distance should be a safe distance to stand near a microwave. Although, you probably should not watch your food cook with your face pressed to the glass each time. Standing even a few inches from the microwave exponentially decreases radiation energy and exposure.
Microwave Safety Tips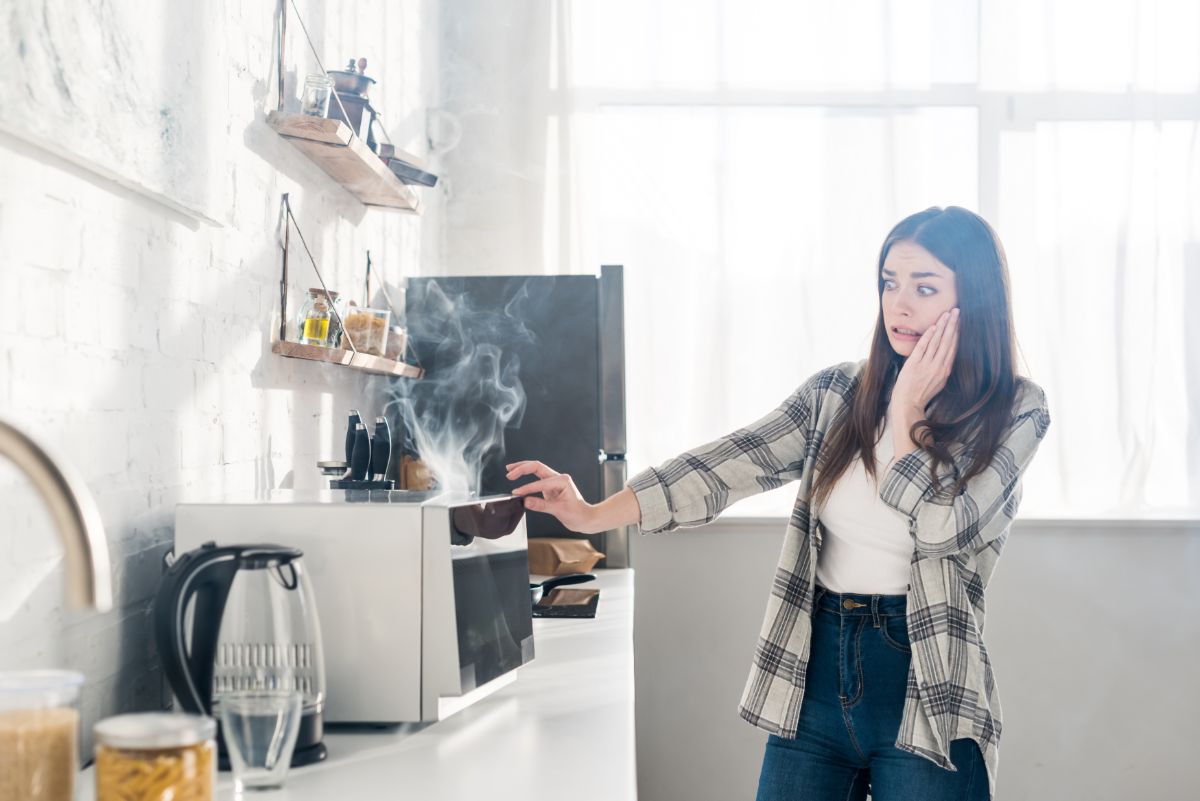 While microwave ovens are safe for you to use, you may want to follow these tips for maintenance and precautions.
Keep your microwave oven owner's manual
Follow all instructions and precautions from the manufacturer
Do not use a broken microwave
Do not stand close to the microwave while in-use
Limit the usage of plastic containers
Pay close attention when heating water or other liquids
Replace your microwave oven about every ten years