Microwaves are one of the best convenience inventions to date. They have been heating food for people in seconds since 1945. Accidentally invented by a self-taught engineer, microwaves have changed the game of cooking and reheating food.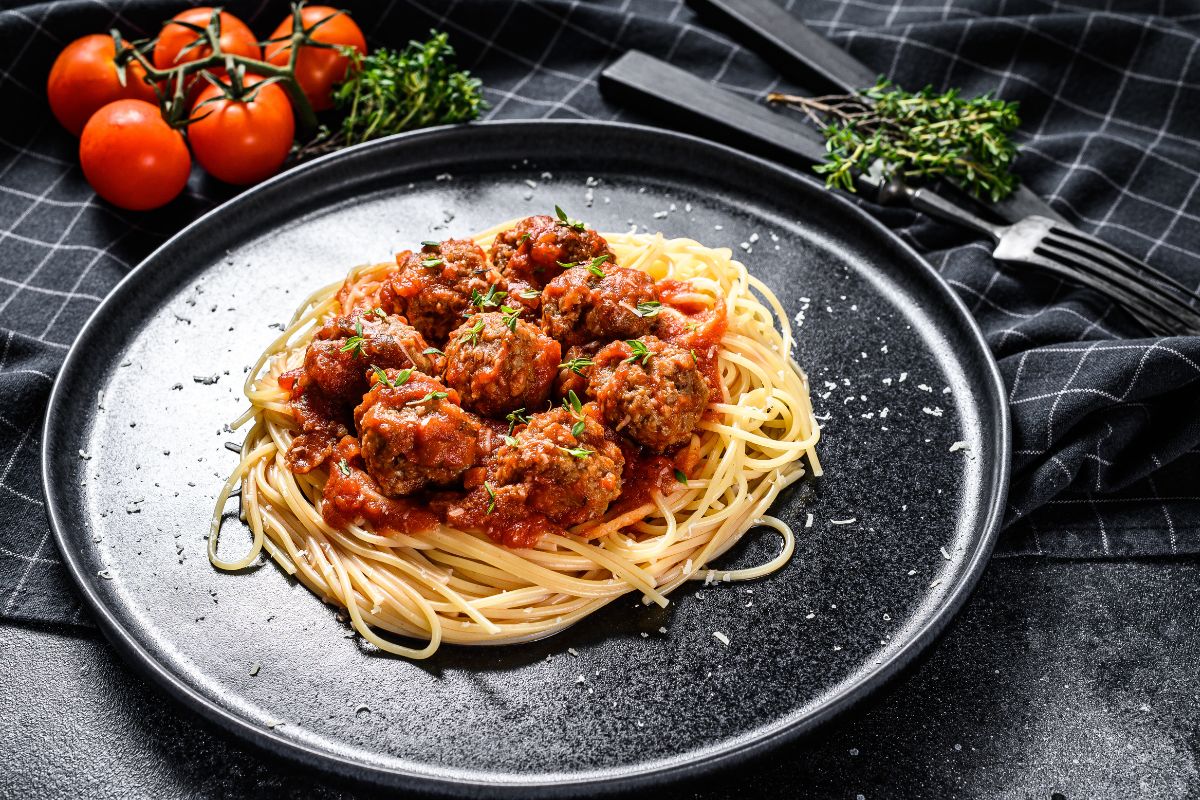 Some apartments, hotel rooms, or houses do not have a kitchen. Most people replace a full kitchen with a microwave and a mini refrigerator. Because of the increase in people using microwaves, many ready-to-eat meals are made with only a microwave.
People have adapted many recipes to only using a microwave. If you find yourself in a situation without a stove but have a microwave, don't worry! You can make many delicious meals in your microwave.
Pasta has been a favorite for a long time. Can you cook spaghetti in the microwave? Yes, you can cook spaghetti in the microwave! Whether you are cooking spaghetti or reheating it, all you need is a microwave-safe bowl, water, spaghetti, and a microwave!
Check out the steps to cooking a delicious spaghetti dinner in your microwave without having soggy or dried-out pasta.
Jump to:
Microwave-Safe Bowl
The first step to getting great spaghetti from the microwave is getting a microwave-safe bowl. Most glass bowls are microwave safe, but you want to make sure your bowl will not crack in the microwave.
Your microwave-safe bowl must have a microwave-safe lid that fits tightly. The lid is essential in cooking the pasta thoroughly. The lid on top of the microwave-safe bowl traps in steam, cooking the pasta to the perfect texture.
After you have secured your microwave-safe bowl and lid, you're ready to add the water!
Water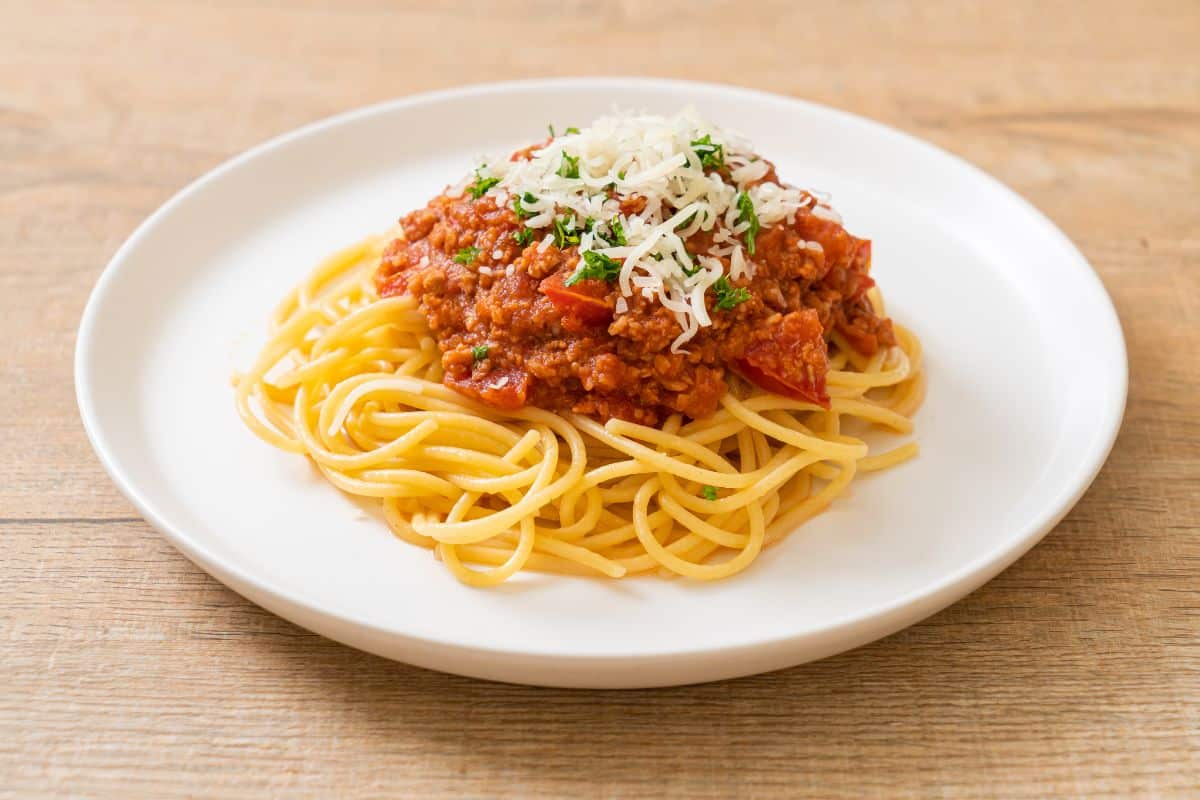 After acquiring your microwave-safe bowl with a tight-fitting lid, add your pasta to the bowl. A regular package of spaghetti from the store is 16 oz. Make sure the bowl is large enough to hold all of the spaghetti and water.
For a 16 oz package of spaghetti, add 4 cups of water to the bowl. Make sure the spaghetti is completely covered with water, with no dry ends sticking out. Place the lid securely on the microwave-safe bowl.
If you are not using a full box of spaghetti, the rule of thumb is 1 cup of water for every 4 oz of pasta. You will know if you have enough water in your bowl if the water is completely covering the pasta.
Adding the right amount of water is essential to a great microwaved bowl of spaghetti. This same water-to-spaghetti ratio can be used for other types of pasta as well, not just spaghetti.
Time
You have your microwave-safe bowl filled with spaghetti and water and covered with a lid. You are now ready to cook!
Most pasta boxes have a recommended cooking time. It is anywhere from 8-12 minutes in boiling water. When you are cooking your spaghetti in the microwave, that cooking time changes a little bit.
In general, your pasta should be done after cooking it for the recommended box time, plus an additional 3 minutes. The extra three minutes are needed because you are not starting with boiling water, as you would be if you were cooking the spaghetti on the stove.
If your box says the recommended cooking time is 11 minutes, your total cooking time should be 14 minutes. Cook your pasta, lid on, for 7 minutes. Take it out of the microwave and give it a quick stir. Return the pasta to the microwave and finish it off with another 7 minutes until it is al dente.
Serve
After cooking, you are so close to eating! Drain the pasta and serve. Some people like a plain bowl of pasta with some butter, salt, and pepper. Others like it best with marinara sauce, alfredo sauce, or bolognese sauce.
Check out the pasta variations below, all of which can be made in the microwave!
Variations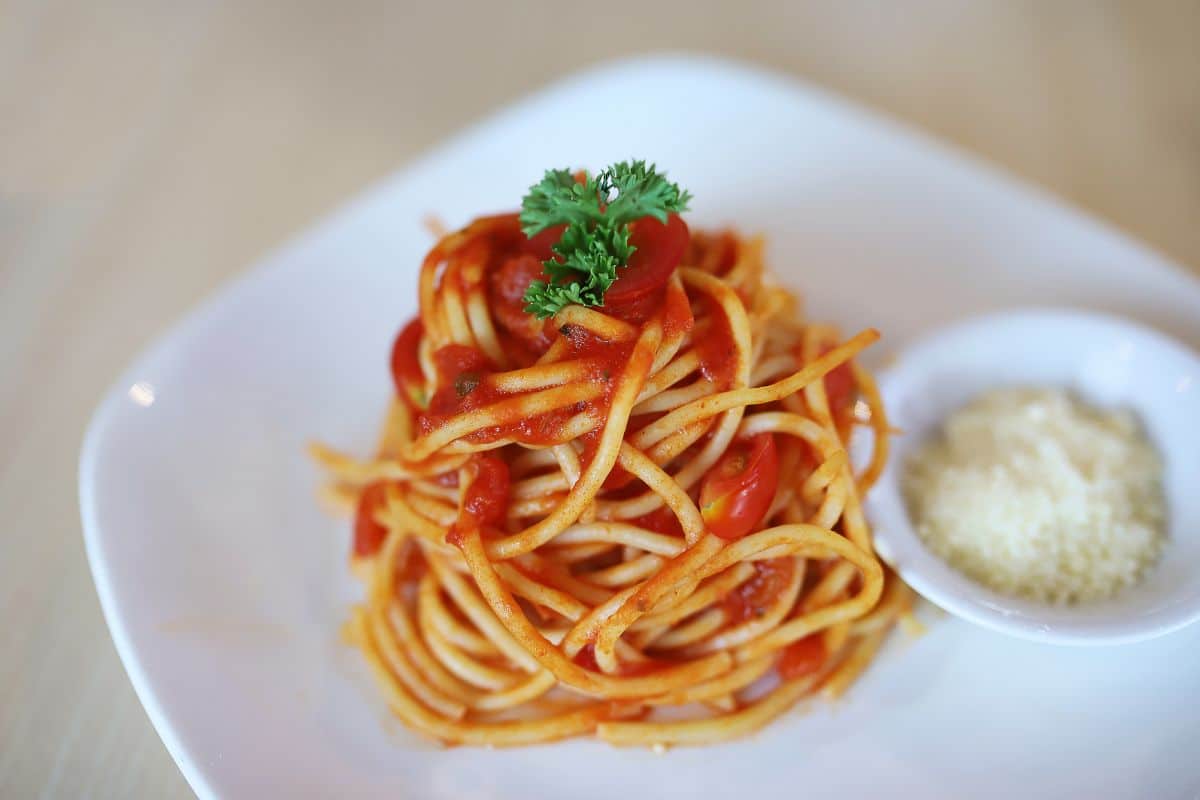 There are many great sauces to add to a perfectly al dente bowl of pasta. Most of these sauces can be bought pre-made, making it a quick and easy option for a delicious meal out of the microwave!
Marinara
When you think of spaghetti, you think of marinara sauce. The marinara sauce has been a favorite amongst pasta-eaters for years. Its classic Italian flavor makes any bowl of pasta delicious!
Marinara sauce is a simple sauce made from base ingredients like tomatoes, basil, and salt. Marinara sauce is one of the most readily-available pasta sauces to consumers today.
If you want to make spaghetti with marinara sauce in your microwave, it's easy! Follow the instructions for how to cook spaghetti in the microwave above. Grab another microwave-safe bowl and add a jar of spaghetti.
Microwave the sauce for two minutes, then pull it out of the microwave and give it a stir. Return the sauce to the microwave and microwave for another two minutes. Keep doing this until the internal temperature of the marinara sauce reaches 165 degrees Fahrenheit.
Add the marinara sauce to the spaghetti noodles for a delicious pasta dinner!
Alfredo
Another top pasta sauce is alfredo sauce. People can't get enough of this creamy sauce filled with rich parmesan cheese and garlic.
Alfredo sauce can be found at most grocery and convenience stores. Grab a jar of alfredo sauce and warm it in the microwave for a quick and easy meal.
Dump the jar of alfredo sauce into a microwave-safe bowl and microwave for two minutes. Give the sauce a stir and return it to the microwave for another 2 minutes. Continue in this manner until the alfredo sauce reaches an internal temperature of 165 degrees Fahrenheit.
Pour the creamy sauce on top of your al dente pasta and top it with some fresh parmesan cheese for a delicious, microwaved meal!
Pesto
Pesto sauce is a fresh take on pasta sauce. Simple ingredients like basil and olive oil make pesto a favorite sauce when you want a light take on pasta.
Jars of pesto are smaller than marinara and alfredo sauce. The smaller amount of pesto sauce means it doesn't have to be heated in the microwave as long. Heat your pesto sauce in a microwave-safe bowl for one minute, then give it a stir. Return to the microwave for another minute. Continue until the internal temperature reaches 165 degrees Fahrenheit.
Reheating Spaghetti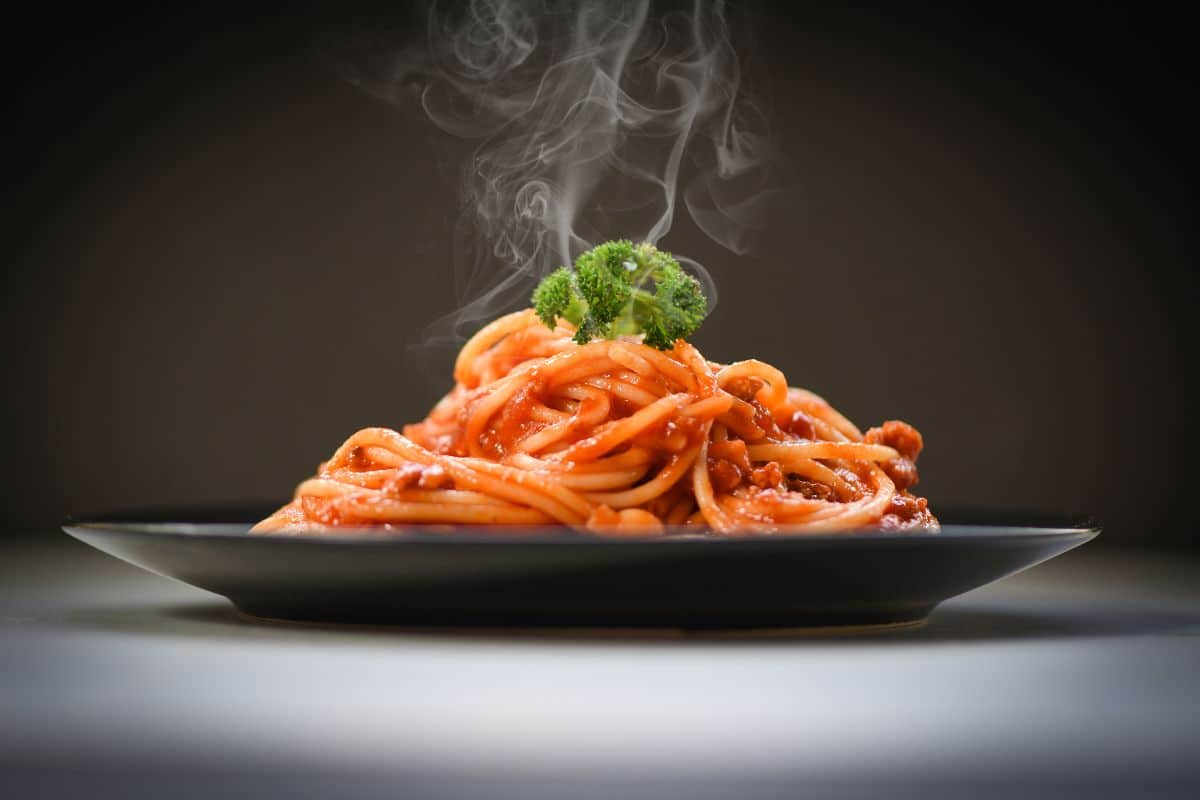 If you have already cooked your spaghetti, you can heat it up in the microwave. Add your spaghetti to a microwave-safe bowl and add a couple of tablespoons of water. Put the lid on and microwave for 30 seconds. Give your pasta a stir and microwave for another 30 seconds. Do this until the pasta has reached your desired heat.