You're excited to whip up a delicious seafood dinner for your loved ones when you realize that the star of the show, your frozen salmon filets, are still rock solid.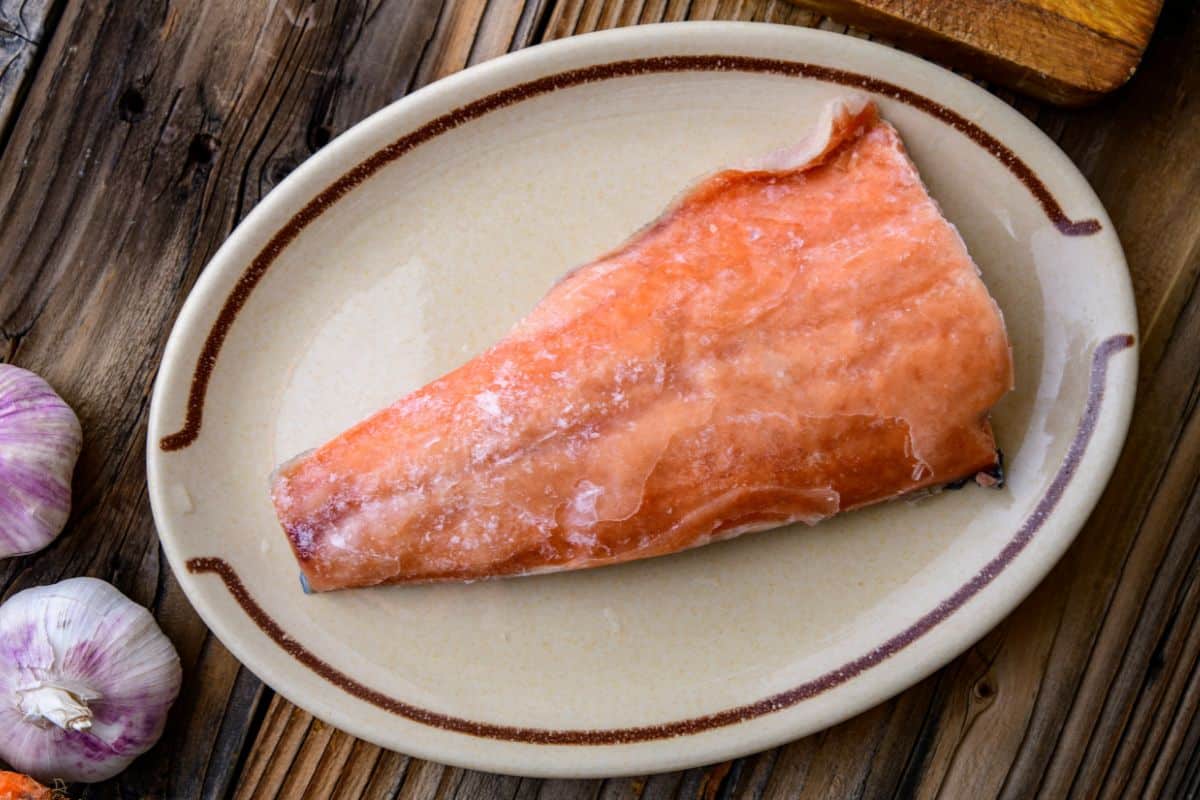 Salmon is a food that will respond poorly to rough handling. Handling it too aggressively will result in a stinky, chunky mess worse than having no entree at all. So what are your options? Rather than yell at whoever was supposed to defrost them, you can take steps to quickly thaw your salmon and save your evening.
Jump to:
Is Microwaving the Best Way To Thaw Salmon?
You can defrost salmon in a microwave, but it's not recommended. Most experts recommend letting the fish thaw in the fridge overnight to let it soften up. This method is the safest to prevent bacteria growth and will result in a flexible filet that has evenly thawed. Even thawing means the best preservation of flavor and texture compared to any other method.
Of course, using the thawing fish in the refrigerator method is slow and not usable in emergencies. A quicker alternative for the chef on the run is using a water bath.
Using Water To Thaw Salmon Quickly
To thaw a salmon quickly using water, you'll need a container capable of holding a large amount of water. You can use a bowl or even a plugged kitchen sink.
Put the frozen fish in a resealable bag that is either disposable or easy to sanitize. Fish can carry lots of bacteria that can cause catastrophic cross-contamination in the kitchen.
Fill the container with cold water. It may seem counterintuitive to use cold water. After all, the goal is to heat the fish. However, keeping the water cold means that the bacteria in the fish will not have a chance to begin growing.
Keep in mind, just because the water is slightly cold doesn't mean it's ice cold. Thus, it is still transferring warmth to the icy cold fish.
This method is a good compromise between the convenience of microwaving salmon and the long method of defrosting it overnight. Thawing in cold water, however, can still take up to eight hours.
For those eager to get dinner on the table, the best method to defrost salmon quickly will be the microwave.
What Is the Best Way To Thaw Salmon in the Microwave?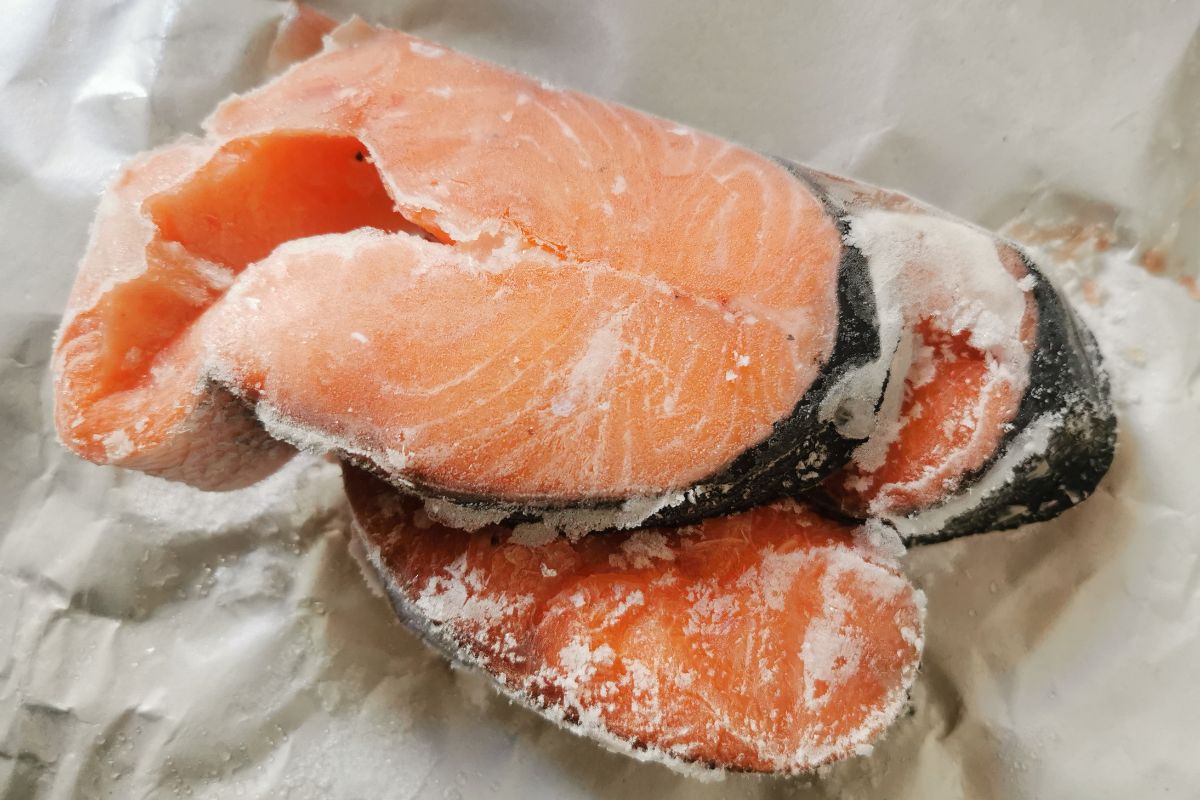 When microwaving salmon, be sure to do so carefully and monitor the progress of the filet.
Letting the salmon thaw in the microwave for too long at too high a temperature will result in a stinky piece of fish with poor texture.
To successfully thaw salmon in the microwave, use the defrost setting. In addition, don't let it defrost completely. Instead, remove the salmon while it is still icy but pliable. The filet should be cold but bendable.
How To Safely Defrost Using a Microwave
While many feel that microwave usage feels like second nature to many, there are ways to properly use a microwave when defrosting that help to keep the food and your family safe.
Remove all packaging included with the fish. This packaging is not meant to be exposed to high temperatures such as those found within an operating microwave. Move the food to a microwave-safe plate.
Using defrost means that the microwave will be operating at 30% power. This may mean that progress seems much slower than normal microwave operations. Be certain to remain patient or risk spoiling the food.
Should your microwave not rotate food, be certain to manually turn the plate. Common wisdom claims that defrosting needs about ten minutes per pound of food, though this time can vary widely depending on the shape of the food.
Once the food is thawed, it needs to be cooked as soon as possible. Never return thawed food to the freezer or the fridge. By thawing it any latent pathogens have had the chance to awaken and begin growing. Kill them again by cooking the food thoroughly.
These guidelines are provided to help promote safety, and following them shouldn't slow you down on the way to your delicious meal. Thought for food safety at the moment can save you a day or two in the restroom.
Can You Defrost Salmon in the Microwave? (Answered)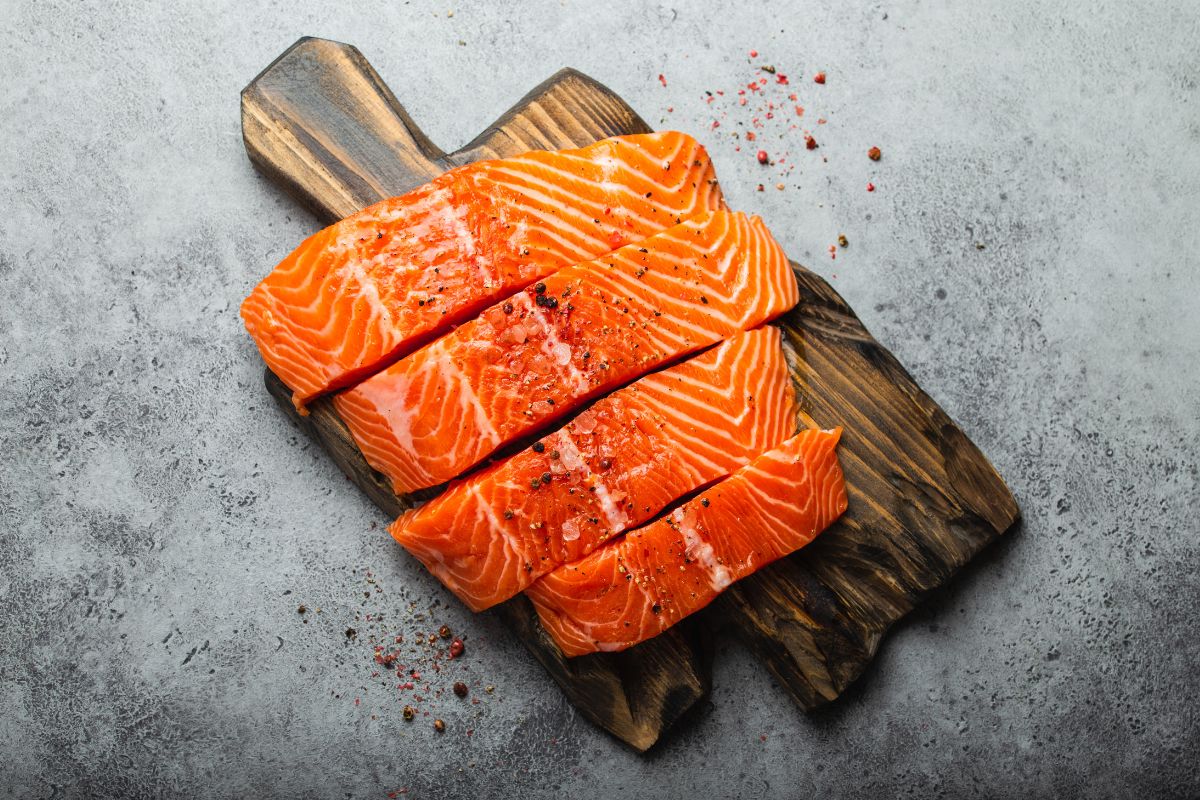 Yes, you can defrost salmon in the microwave. However, it is not the recommended process. Microwaving can cause uneven thawing and cooking, rather than a nice even thaw from other methods. However, using cold water to defrost salmon can take up to eight hours. And defrosting salmon in the refrigerator means leaving it to thaw overnight.
Thus, microwaving is the best way to defrost a salmon quickly when trying to get dinner on the table. It's imperative, however, that this is done in adherence to all food safety protocols. Stay safe and you'll have a delicious seafood meal in no time!