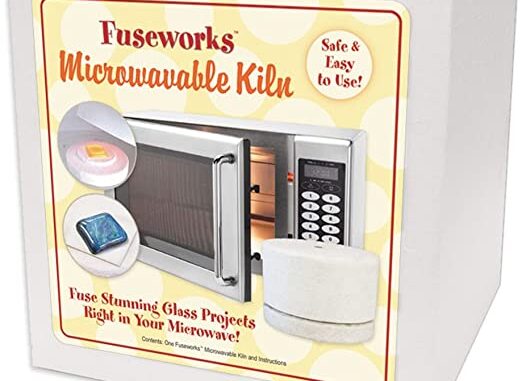 Suppose you are trying to make your own jewelry and need to fuse some glass together but do not have the money to buy a full-size kiln or do not have the extra space. There is no need to worry because there is a fantastic solution to this problem.
You can buy a microwave kiln for a whole lot less than a full-size kiln, and a microwave kiln is super easy to store due to its compact size. All you need is a microwave to use this product, but the microwave needs to be at least 1,000-watts to ensure you get the best results.
All microwave kilns are made with the same material and look identical, but each of these kiln kits come with different supplies, and a few of the kilns are different sizes. We will be reviewing four microwave kilns to determine which kiln is the best for your project. So, without further ado, let's dive in.
Fuseworks FW849 Beginner's Microwave Kiln Review
Large Microwave Kiln with Accessories Review
Professional Large Microwave Kiln Kit Review
DIY Jewelry Glass Fusing Microwave Kiln Review
Buying Guide – How to find the best microwave kiln for your needs
When choosing what microwave kiln kit is right for your project, you must consider if it comes with any extra supplies and how big the kiln itself is. If you need a bigger kiln with all the extra supplies, the professional large microwave kiln kit is a great option.
If you already have a lot of glass and other supplies for your projects, then you could buy the Fuseworks microwave kiln since it contains just the kiln. Or if you still need supplies, but do not need a large kiln, then the 14-piece professional microwave kiln kit is the perfect option.
The prices for microwave kilns are exceptionally low, ranging from $102 for the more expensive kiln kit and $43 for the less expensive kiln kit. Keep in mind though you will need to buy more supplies whenever you run out.
Now that we have gone through the four different microwave kiln kits, you can decide which one would work best for whatever you need it for.