Many people enjoy a nice meal for dinner but don't want to spend hours preparing and cooking meals. After you finally prepare the meal and eat, you then have at least another 15 minutes of clean-up time.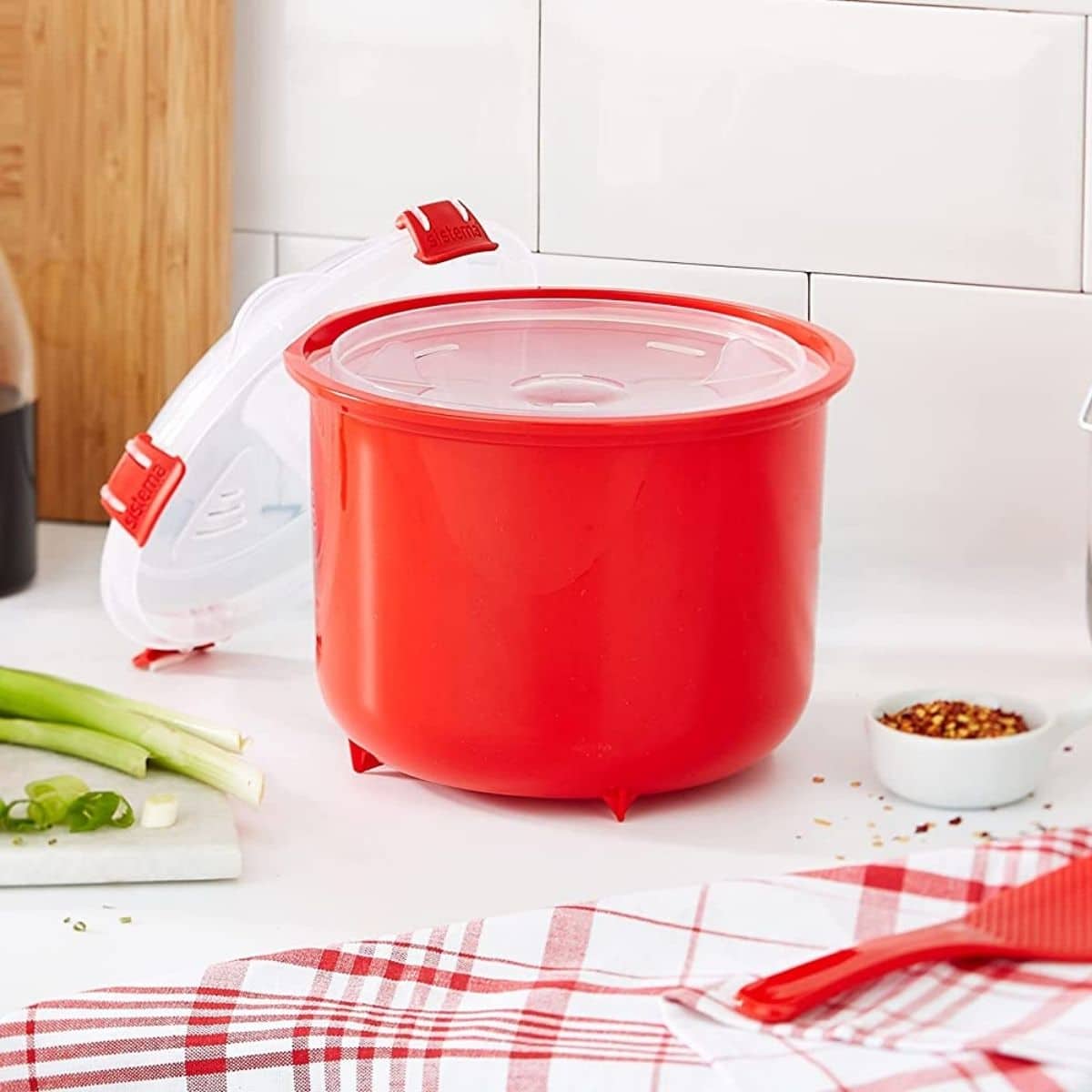 Rice is a popular dinner-time meal and requires a pretty long cook time and multiple pots and utensils to cook it making it complicated.
There are boil-a-bag rice options, but some don't prefer this type of rice and therefore have to struggle to make it the long way. Well, this post will allow you to change the way you cook rice and make it faster to prepare.
We are talking about a rice cooker that can go into the microwave. This can save you valuable time in prep and more time enjoying your meal with less clean-up time as well.
We have four rice cookers with different options that we would like to review for you so you can buy the best rice cooker for your home and family size.
Progressive International Microwave Rice Cooker
This 4-piece rice cooker set from Prep Solutions by Progressive can make perfectly steamed rice in just a matter of a few minutes.
This rice cooker will work with all types of rice to create a healthy and delicious side dish for any meal, lunch, or dinner.
The large pot design allows the Prep Solutions by Progressive rice cooker to cook up to 6 cups of rice at a time.
Not just made to cook and steam rice, you can also use it for quinoa, oats, and more. All of these can still be cooked within minutes.
With the 4-piece design, you will receive the pot, locking lid, measuring cup, rice paddle, spoon, and even cooking instructions.
Cleaning is a breeze with the non-stick surface. This makes cleaning the rice cooker quick and easy.
The Prep Solutions by Progressive rice cooker is made of high-heat BPA-free propylene and it is even dishwasher safe so when you are done eating, just throw it in the dishwasher!
If you are unsure about the quality of this rice cooker, Progressive has had over 40 years of producing innovative kitchen products.
Joseph Joseph 45002 M-Cuisine Microwave Rice Cooker
Cooking rice has never been easier with the Joseph Cuisine rice cooker. In short, measure the rice, cook the rice of your choice to a perfectly fluffy condition and serve.
This set from Joseph Cuisine includes a 2-liter cooking pot, colander, rice paddle, and measuring cup.
Another cool feature of the Joseph Cuisine rice cooker is that the paddle can double as a locking mechanism by locking the lid onto the pot. This makes it easy to carry or even transport in the car to a friend's house or that family picnic.
Not just limited to cooking and steaming rice, you can cook many other grains inside this rice cooker.
The Joseph Joseph Cuisine is also dishwasher safe which means clean-up will be fast and easy for you after your meal. This means more time relaxing and less time cleaning.
It is important to note that the cooking times will vary with each microwave wattage range and the altitude you live in could also affect the cooking time.
Sistema Microwave Collection Rice Cooker
The Sistema rice cooker is a larger 2.6-liter design. It comes with a rice paddle that can also be used as a rice server meaning one less utensil to wash after your meal.
The rice cooker can cook and steam rice plus couscous, polenta, and other grains.
A steam release vent on the lid allows for splatter-free heating in the microwave.
There are easy-lift tabs on the Sistema rice cooker that are cool to the touch no matter how long the rice cooker is in the microwave making it safe to the touch right after cooking.
Another good feature is that this rice cooker is also BPA-free and the rice cooker is made out of 100% virgin plastic.
Cleaning is a breeze with this rice cooker too as it is dishwasher safe; the only issue is that it has to go on the top rack only.
There is a pressure chamber plate on the bottom of the rice cooker to catch any overflow. This allows it to be drained easily.
Besides dishwasher safe, this rice cooker can be placed in the refrigerator or freezer for safe storing of any leftovers from your meal.
Rapid Rice Cooker
A Rapid Rice cooker is a unique item in the rice cooking world as there is no large pot or anything else with it, basically, a plastic container that makes perfect rice every time. There are heat-resistant handles built right into the sides for easy carrying after cooking.
You can save time cooking rice with this rice cooker by not needing to boil water and using multiple pots, pans, and utensils.
Heat up the rice in just 3 minutes with the Rapid Rice Cooker! Who doesn't love short meal prep like that? The rice turns out delicious every single time too.
This rice cooker is also BPA-free like all the rest of the rice cookers we have reviewed meaning that this is safe to cook with.
These may not look reusable but they are! They are also dishwasher safe too!
Rapid Rice cookers come with a 1-year limited manufacturer warranty and come as a 2-pack with each purchase.
Buying Guide - How To Find The Best Microwave Rice Cooker For Your Needs
Meal variety: Decide what type of meals you cook and decide if you need a rice cooker or a rice cooker that can cook grains and other types of food.
Family size: How big is your family and what size rice cooker will you need? Is 2 liter going to be large enough which makes 6 cups of rice?
Speed: How fast can each rice cooker cook the rice amount you intend to cook? If you need it cooked in minutes, then the Rapid Rice Cooker may be your only option.
Warranty: Some rice cookers have warranties and others do not, will you need a warranty to sway you into purchasing a rice cooker or not?
Although it isn't as convenient as using a rice cooker, it is possible to cook rice in a microwave without one.