I love eating bacon, and it goes so well with a lot of different foods, but sometimes I don't want to go through the whole process of frying bacon in a pan.
Sometimes I just want to cook a couple of bacon slices quickly and not worry about the cleanup. If you are the same way, you are in the right place as I will show you the best way to cook bacon quickly and efficiently in the microwave.
Perhaps you love bacon, but you want to reduce your fat intake; with the reviewed products below, you will find out how to significantly reduce the fat in bacon.
I reviewed products with quality and convenience in mind, and below are the seven best microwave bacon cookers on the market.
Prep Solutions Microwavable Bacon Grill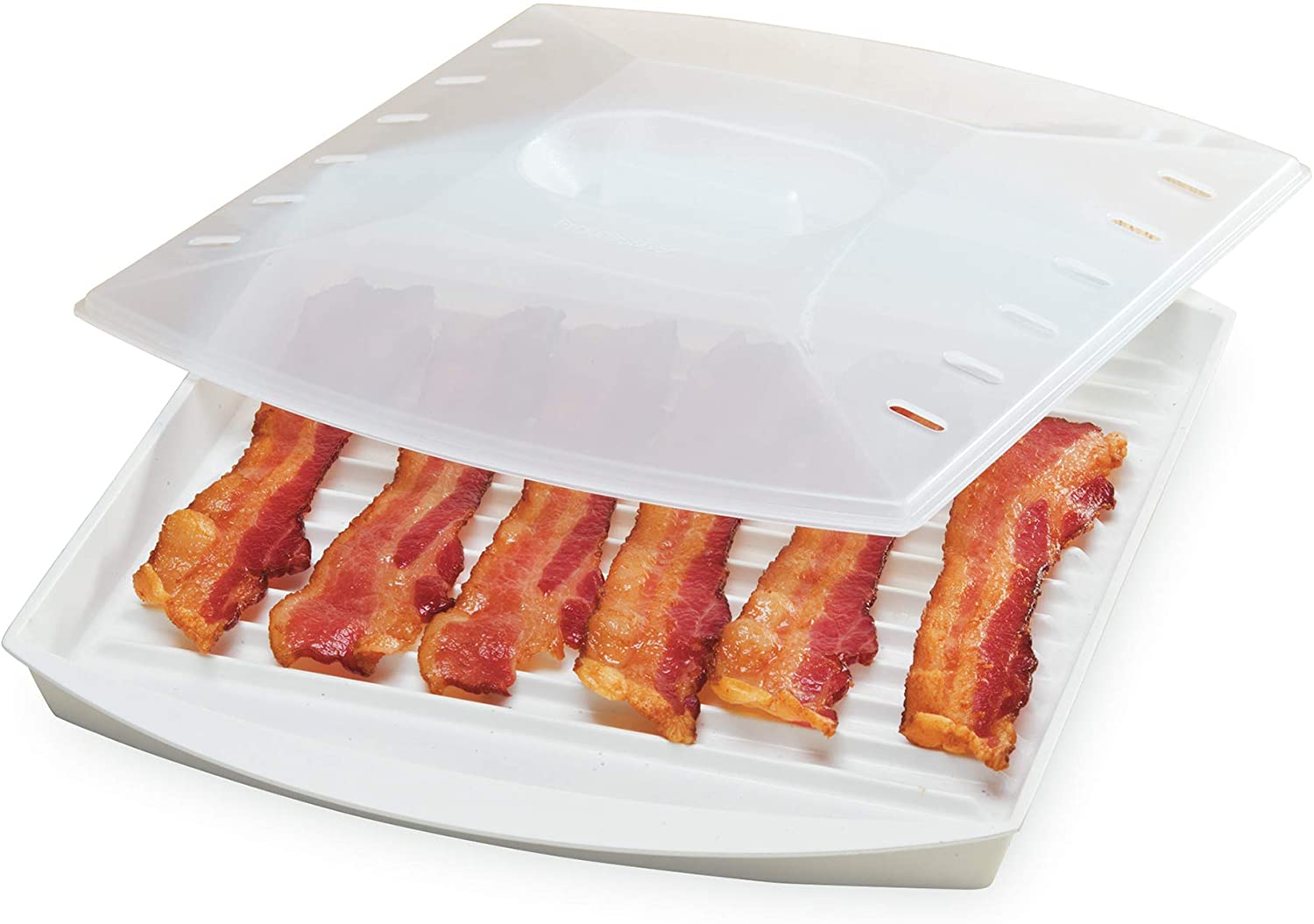 Sale
Progressive International Prep Solutions Microwavable Bacon Grill, White, 1 Piece
Bacon Grill: This Bacon Grill with Cover cooks 4-6 strips of bacon to perfection in the microwave; Its special design keeps bacon elevated so fat drips off, leaving you with a healthier breakfast side; Minimum turntable diameter 12.5"
Innovative Design: The grill features a vented cover to prevent grease splatter and a recessed handle for easy removal; Also use it for sausage links, patties and other snacks like pizza rolls and taquitos
Food Prep Made Easy: We offer kitchen accessories that make food preparation faster, easier and more enjoyable, from fruit and veggie choppers to measuring spoons and cups and collapsible storage bowls
Stylish Design and Solid Functionality: Our philosophy is simple—offer stylish designs with no-nonsense functionality; We understand the kitchen is the heart of the home, where family and friends connect
Kitchen Essentials: We boast over 40 years of innovating kitchen products and housewares with unique gadgets and tools for food preparation plus thoughtfully designed food storage containers; For more please visit The Progressive International Store.
Prep Solutions is a company that has been in business for 40 years and makes quality products. Their bacon grill is no exception.
It is available in two colors, red or white, and can hold 4-6 pieces of bacon. It is a smaller capacity than some of the other reviewed models but still a decent contender for best bacon grill.
To use, place bacon on the tray and cook one minute for each piece of bacon. 4 pieces = 4 minutes, 6 pieces = 6 minutes, etc.
You can adjust the time depending on your bacon preference; want chewier bacon cook for less time, crispier? Cook for longer.
The slanted tray directs away the bacon drippings, which you can collect for use elsewhere or easy disposal. An included vented cover prevents splatters, which is a big plus.
Of the reviewed models, the Prep Solutions is a bit bigger and may not fit in smaller microwaves. A minimum turntable diameter of 12.5 inches is recommended. Full dimensions are 12" X10" X 2.25".
You can also use this model for cooking other items in the microwave like sausages or pizza rolls. Cleaning is easy, as the whole tray, cover, and all can be put in the dishwasher.
TIP: To make cleaning even easier, we recommend spraying the tray with cooking spray before use, preventing sticking.
PROS:
Dishwasher safe
Included vented cover
Quality brand
Recessed handle for easy removal
CONS:
Smaller bacon capacity
May not fit inside smaller microwaves.
Bacon Wave Microwave Bacon Cooker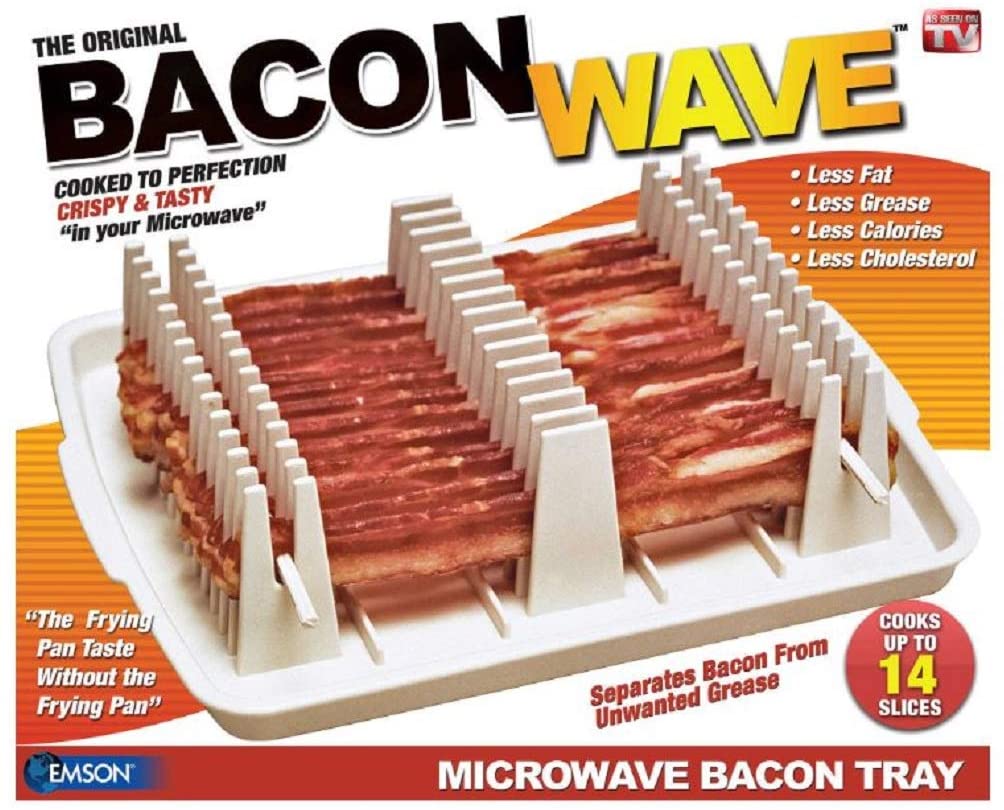 Sale
As seen on TV, the Bacon Wave is a unique bacon cooker that works great and produces tasty, evenly cooked bacon quickly.
The capacity of the Bacon Wave is 14 pieces, which is one of the highest capacities we have seen. Need to cook even more bacon? Because of the low height, you can stack two Bacon Waves on top of each other and cook 28 pieces of bacon at once!
To get the best results, you should set the microwave for one minute for each piece of bacon you wish to cook. Included are two plastic skewers that hold the ends of the bacon in place.
These skewers work well but can be more of a tedious process to set up than other models, which only require you to place the bacon on a tray or hang over a rack. Similar to other models, the Bacon Wave elevates the bacon so you can easily separate leftover fat.
We love how easy the Bacon Wave is to clean, all pieces are dishwasher safe, and we recommend a quick wipe down with a wet paper towel after use. Dimensions are 10" X 9" X 2.5"
TIP: We recommend placing a piece of paper towel over the top of the Bacon Wave when cooking to prevent splatters.
PROS:
Highest capacity! Up to 28 pieces
Dishwasher safe
Easy to clean
CONS:
Skewers may be hard to use
Longer pieces of bacon may not always fit.
Makin' Bacon Microwave Rack and Tray Review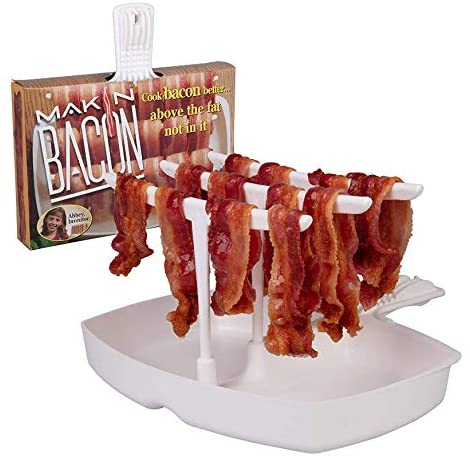 Sale
The Makin' Bacon is uniquely designed and uses a rack instead of a tray to cook the bacon.
To use drape up to 15 pieces of bacon over the durable plastic racks. Set your microwave for one minute per slice. We also recommend placing paper towel over the top to prevent any messes from happening inside your microwave.
When cooking, fat drips down and is contained in the tray. You are cooking bacon in the air, not in fat.
Directions are embossed on the bottom of the tray, which is really helpful, so you don't have to rely on instructions that may have been discarded or lost.
Makin' Bacon is made in the United States out of specially designed plastic that can withstand the high heat created by the microwave.
Dimensions are 9.2" x 8.8" x 1.6". Cleanup is easy, drain any remaining fat, and pop the whole thing in the dishwasher. The racks can be removed for easier storage.
PROS:
Made in the USA
Dishwasher safe
High-quality plastic
High capacity
Easy to Use
CONS:
May not fit smaller microwaves.
Nordic Ware Microwave Bacon Tray and Food Defroster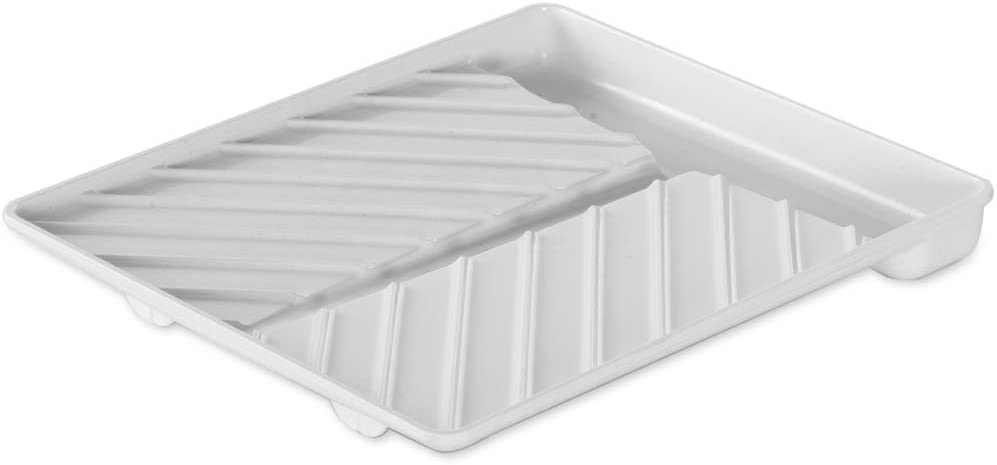 Nordic Ware is a high-quality brand that has been in business for 70 years, so you know you are getting a quality product. This tray is actually two products in one.
You can microwave bacon or use the tray as a food defroster. Moisture from defrosting, or bacon fat from cooking, drains away easily because of the angled grooves in the tray.
Removal from the microwave can be more difficult as this model doesn't have a handle; the tray can become hot after cooking. Dimensions are 9.5" x 9.75" x 0.5".
The capacity is not very high and can only hold approximately 4 to 5 pieces of bacon, which is lower than some of the other reviewed models.
Cleanup is also a bit more difficult with this bacon tray, as it is not dishwasher safe. According to the instructions, dishwasher use is not recommended as it may warp the product. Handwashing with warm soapy water is the best way to get this tray clean.
TIP: Place a paper towel over the tray when cooking to prevent any splatters.
PROS:
Quality brand
Can be used to defrost food
Fits better in small microwaves
CONS:
Not dishwasher safe
Smaller capacity
Harder to remove from the microwave
Harder to drain fat
No cover included
Sistema Easy Bacon Microwave Grill Tray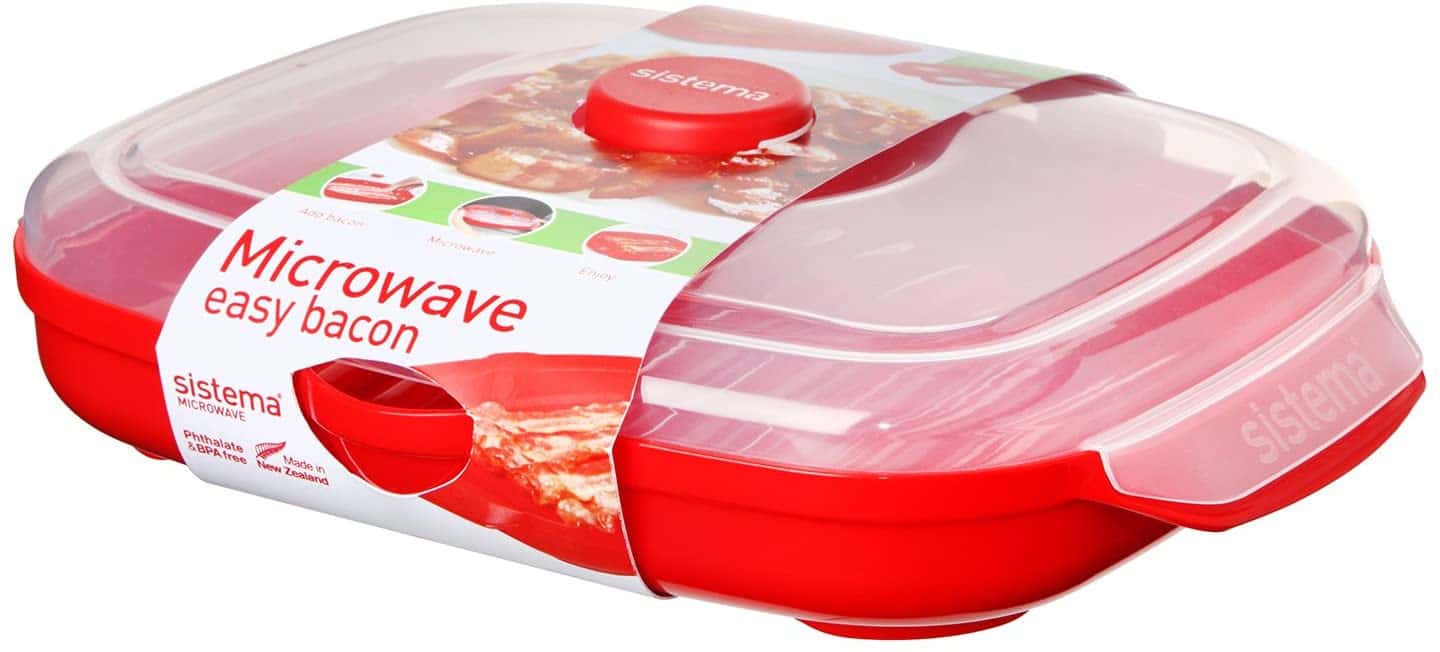 Sistema Microwave Easy Bacon, 28.7 x 21.9 x 7 cm, Red
Quick and easy way to cook bacon in the microwave
Healthy way to cook: Grooved base for even cooking and fat draining
Spout for easy pouring off excess fat
Secure lid to for splatter-proof cooking
keeping your microwave clean;Microwave, dishwasher and freezer safe
The Easy Bacon Tray, like other reviewed models, uses raised grooves to direct bacon fat away from the meat for a healthier finished product.
A cover is included, so any splatter is contained in the tray (not your microwave!) Cleanup is a breeze as the whole unit is dishwasher safe.
A nice feature that sets this model apart from other reviewed bacon cookers is the pour spout in the middle of the tray, allowing easy removal of bacon fat.
Sistema is an excellent brand that makes quality, highly reviewed food prep products.
PROS:
Cover included
Dishwasher safe
Spout for easy draining
CONS:
Smaller capacity
Presto PowerCrisp Microwave Bacon Rack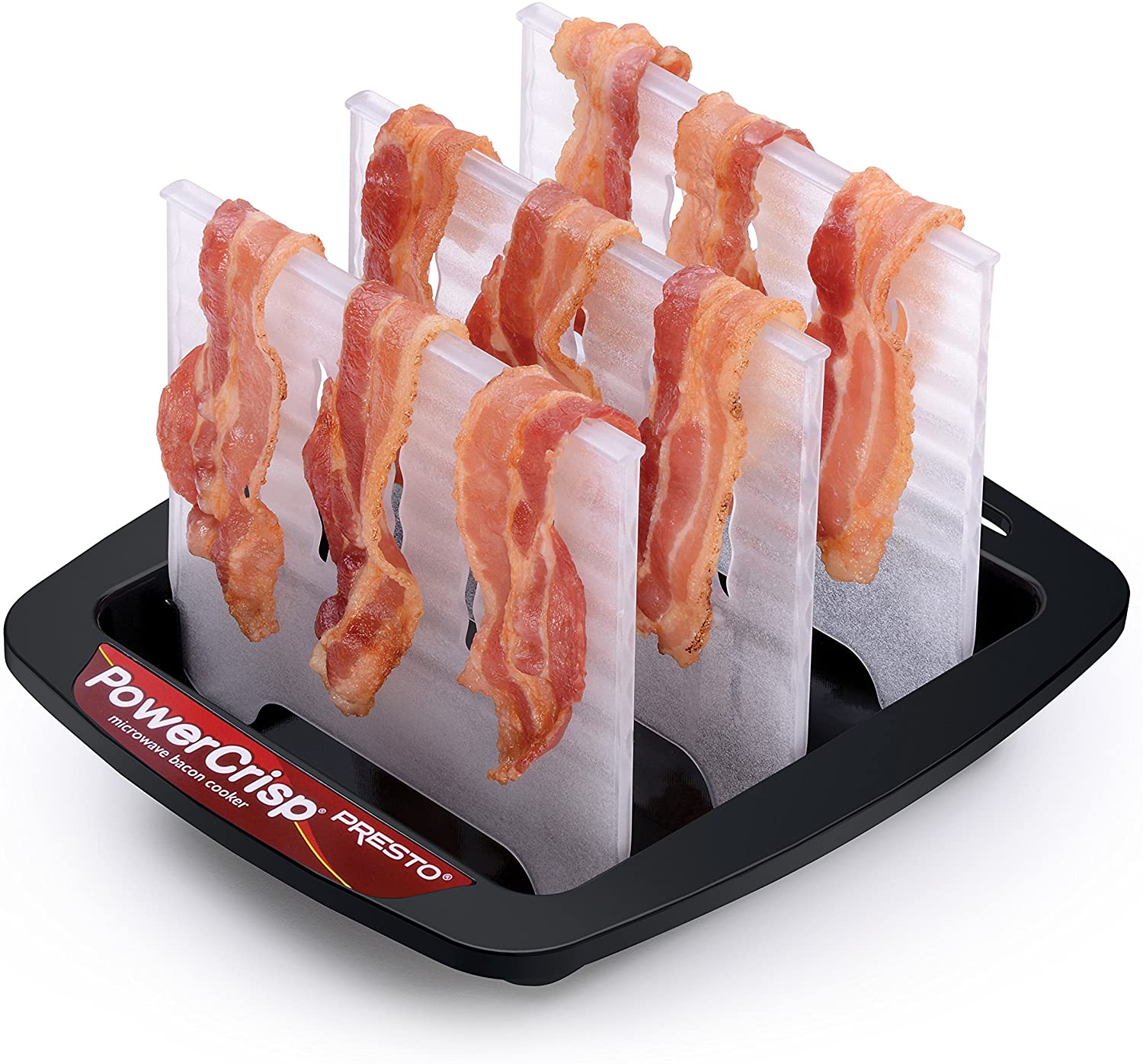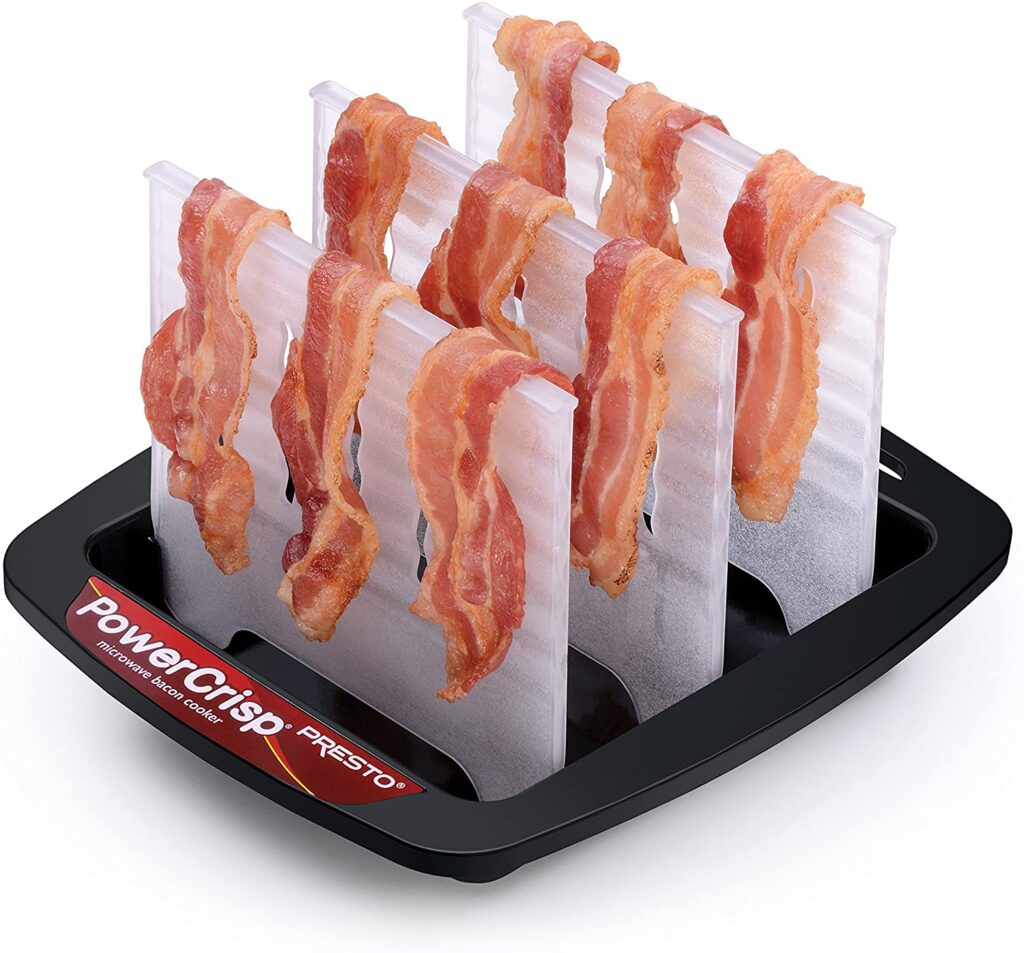 Presto 05101 Microwave Bacon Cooker, Black
No mess! Makes 12 pieces of bacon with no messy spatters on counter or stovetop.
The easy way to make crisp, delicious bacon in your microwave. Simple to load, serve, clean, and store.
Bacon cooks leaner and healthier than pan-fried. Fat drips into exclusive deep base.
Fully immersible and dishwasher safe. No tiny hard-to-clean areas. Cooked bacon lifts away with the edge of a knife.
Easy to store. Removable cooking racks stack in tray.
Like the Makin' Bacon cooker, the PowerCrisp by Presto allows you to hang bacon on a plastic rack that lets fat drain into a tray.
You can make up to 12 slices of bacon at the same time. You should drape a piece of paper towel over the whole unit to avoid any splatters.
I am impressed with how evenly everything is cooked. I prefer my bacon a bit more on the crisper side, and with the right cooking time, it comes out great.
The manufacturer recommends one minute per slice you are making, but you should go a little longer if you want it crispier.
The PowerCrisp is easy to clean and dishwasher safe; the racks also collapse down flat for easy storage. Dimensions are 9" x 8.25" x 5.5."
PROS:
Dishwasher Safe
High capacity
Easy to use
CONS:
It May not fit all microwaves.
Hand Sculpted Ceramic Microwave Bacon Cooker Mug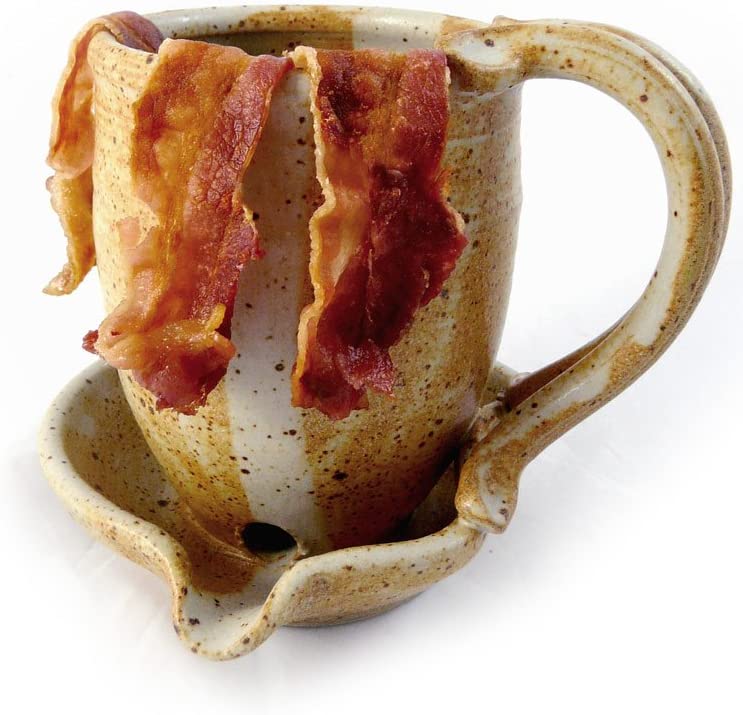 Hand-Sculpted Stoneware Microwave Bacon Cooker Mug, Made in USA (Butternut Tan)
An easy way to cook bacon without frying it in its own grease
Simply drape the uncooked bacon over the rim of the mug, cover with a paper towel, microwave for 4 minutes, and wah-lah... crispy, evenly-cooked bacon!
Holds at least 8 strips of bacon ; Grease drains out of the reservoir
Handmade from ceramic stoneware (no plastics), so it is safe for food, microwave, oven, and dishwasher
Made in the USA - Hand-thrown on the pottery wheel with sculpted accents and lead-free color glazes
I love this mug! It is beautiful and very heavy duty. It is handmade on a pottery wheel in North Carolina.
As you can imagine, it is more expensive than other reviewed plastic models because it is handmade. However, you can leave it out on the counter instead of tucked away in a drawer because of how nice it looks.
Besides looking nice, this mug also works really well. Simply place up to eight pieces of bacon over the rim of the mug. Any drippings will collect at the bottom of the mug.
You can then pour out the fat using the handy spout at the bottom. There are two color options available, Butternut or French Blue. As with many other cookers, we recommend using a paper towel over the top while cooking.
Clean up is easy. You would think this mug would be delicate, but it is sturdy and can be washed in the dishwasher! The manufacturer recommends a cooking time of 30 seconds per piece of bacon.
PROS:
Dishwasher safe
Durable Stoneware, not plastic
Made in the USA
Faster cooking time
Multiple color choices
Easy pour spout
Handmade
CONS:
Higher price
No cover or lid
Buying Guide - How to find the best microwave bacon cooker for your needs
Now that you have read the reviews, how do you know which option is the best for you? Before you buy, there are a couple of options to consider; read on to learn more.
Capacity: How much bacon are you looking to make? Some models can only hold a few pieces, while others can hold up to 28. Make sure what you buy can handle your needs.
Size: How big is your microwave? Some of the reviewed cookers may not fit in every microwave.
Make sure to measure the size of your microwave and look at each model's dimensions and see if it will fit. Some of the cookers that have racks may stick up too high.
Some of the trays are also quite wide and may not be able to turn in the microwave.
Dishwasher Safe? Cleanup is always an issue when making bacon. If you are trying to reduce the amount of time you do dishes, you should check to see if the grill tray you want is dishwasher safe or not.
Some types of plastic do not do well in the dishwasher and need to be hand-washed.
Fat Removal: Bacon fat can be used in a lot of cooking and can be handy to have.
If you want to save the fat leftover from cooking bacon, it must be easy to retrieve. Make sure what you buy has a handy pour spout or collection tray.